Home


Latest News


Prices


Find Us


Mailing List


Contact Us



The Boats


The Lodge


The Bailiff


The Water


On Arrival


Stocking


Flora & Fauna



Trout Recipes


Fishing Statistics


Weather Forecast



History


The Fly of the Year


The Darwell Cup


The Powdermill Cup



Safety Advice


Club Rules



Accommodation


Places Of Interest


Fishing Links









| | |
| --- | --- |
| TROUT RECIPES | |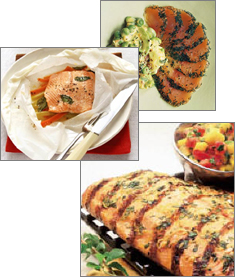 First catch your trout. Well, hopefully if you have visited Powdermill, you will have already succeeded in this endeavour!

Cleaning the trout is not everyone's idea of the way to end an exhausting day's fishing but someone has to do it. Help on cleaning and preparing the trout for eating are below.

In addition to the tools required and the method of cleaning a trout, we also provide you with the basic cooking methods that can be used.

What we would like from you is your favourite recipe which we will be delighted to include in this section.

BUILD YOUR OWN SMOKER

Click Here to find out how to build your very own homemade fish smoker.

TOOLS FOR CLEANING TROUT

The only essential tool that you require is a sharp filleting knife.

A spoon to clean away the kidney line is very useful but you can just as easily use your thumb.

A fish scaler is another handy tool to have but is not essential and I simply use the blunt edge of a knife.

The more cautious among you may wish to purchase a filleting glove as it not only protects the hand but also makes the fish easier to grip.

When cleaned, I simply wrap each trout in a Freezer Bag if they are to be stored in the deep freeze.

CLEANING TROUT

Washing & Scaling
Wash the outside of the trout in running water to remove the slime and at the same time remove the scales from the fish, with a blunt knife edge or using a fish scaler.

Cleaning The Inside
At this stage you can remove the head, if you wish, by slicing down behind the gills.

Insert the knife into the trout's vent and work the knife towards its head.

The innards, throat and gills should now pull away easily.

Remove the kidney line that runs along the spine by scraping it with the nail of your thumb of with the rounded edge of a spoon.

Finally, wash the fish in running water and you have a classically cleaned fish ready for cooking using your favourite recipe.

Goodness
Trout is low in both fat (a third of the fat of salmon) and calories (just 135kcals per 100g), with high levels of A and B vitamins, calcium, selenium and the vital Omega-3. It is also quick and easy to cook, as well as being very versatile.

COOKING METHODS

Baked Trout
With the modern day emphasis on healthy eating, baked trout is arguably the best option and is by far the easiest method of cooking your catch. Not only does baking in foil keep the fish nice and moist but all sorts of ingredients can be added to add subtle alternative flavours.

Apart from the trout, all you need is some butter, some lemon, fresh herbs (such as parsley, thyme chives, dill etc).

I like to add some white wine and other recipes recommend cider or even fruit juice but no additional liquid is really necessary as the butter/oil provides sufficient moisture.

Make a few diagonal cuts in the trout skin to help the flavours penetrate and then season inside and out with all the other ingredients.

Wrap the foil loosely around each fish to make a foil parcel, folding the edges over to seal in the juices.

Bake in a preheated oven at 180°c for 15-20 minutes per lb (35-45 minutes per Kg). Fillets, being thinner, only need about the half the regular cooking time. Do not overcook the fish.

Fried Trout
Use whole or boned fish, steaks or fillets. Dust with seasoned flour and fry in a little oil or butter for 5 minutes each side. Serve simply with a squeeze of lemon, herb butter or mayonnaise.

Grilled Trout
When cooking whole trout, slash thickest part 3 times on each side and brush lightly with oil. Alternatively, brush steaks with oil on both sides. Lay in pan and grill 5/8 minutes each side depending on thickness. Serve with a squeeze of lemon.

Microwaved Trout
Trout cooks perfectly in a microwave oven, either fresh or frozen. As cooking times vary for each make of microwave, refer to the instruction manual for cooking fish. As a general rule, trout take from 4/6 minutes cooking time when simply prepared, stuffed trout take a little longer. Slash thickest part several times on each side of whole fish for even cooking.

Poached/Steamed Trout
Use whole fish or steaks and enough boiling, lighted salted water to cover. Poach gently for 10/12 minutes and drain. Serve hot and cold with butter sauce or mayonnaise. Steam steaks or fillets after seasoning lightly, using a steamer or by placing between two plates over boiling water.