Smoked Trout Pâté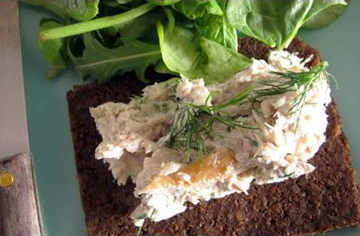 Our favourite cake maker, Dr. Steven Stern, having been given a couple of 'the old boys' smoked fillets, decide to make some Smoked Trout Pate last week. Being a bit of a fan of Felicity Cloake's weekly reviews in the Guardian newspaper, in which she seeks to find the best version of standard recipes, he decided to use the recipe for smoked mackerel pâté. This apparently works just as well with Smoked Trout.

Serves 4


Ingredients:
3 hot smoked mackerel/ trout fillets need 250g
150g cream cheese
100g crème fraîche
3 tsp freshly grated horseradish I substitute 3 tablespoon of creamed horseradish
Lemon, to squeeze I used half à lemon
Small handful of dill, finely chopped


Cooking Method:

1. Skin the smoked trout fillets and do a quick check for any bones – they're not unknown,. Flake three quarters into a food processor with the cheese, crème fraîche and horseradish and whizz until smooth.

2. Add a good grinding of black pepper, and lemon juice to taste, then fold through the dill and the remaining fish. Serve with rye bread or crisp toast.


ENJOY!