Home


Latest News


Prices


Find Us


Mailing List


Contact Us



The Boats


The Lodge


The Bailiff


The Water


On Arrival


Stocking


Flora & Fauna



Trout Recipes


Fishing Statistics


Weather Forecast



History


The Fly of the Year


The Darwell Cup


The Powdermill Cup



Safety Advice


Club Rules



Places To Stay


Places Of Interest


Fishing Links



Members only









December Newsletter

The fishing results for November showed that the fish are still very elusive in spite of falling water temperature and some rain they are not being tempted to take dry flies.

Our Bailiff insists that there are still plenty of trout in the reservoir but for some unknown reason they are not willing to currently feed on our flies. He has researched some other fisheries in the southeast and they are experiencing the same difficulties in catching.

However our members and visitors have had some success as some small trout averaging around one and a half pounds were caught as was a solitary brown trout which was of course returned to the water. All were caught on nymphs.

There was one larger fish caught by John Noble of two pounds four ounces on a Diawl Bach and so he is nominated as our Fisherman of the month.

The working party for 23 November had to be postponed due to bad weather and was reconvened the following week on 28 November when we experienced a sunny day. The cut outs and bank areas were trimmed with all dangerous branches removed as well as the scrub over the ground.

The result is cut outs back to original size at the water with no branches behind to catch your back cast and a wider angle at the water to cast from into deep water.

Thanks go to Tim Stacey and his team of Derek Cole, Dick Telford, John Varley and Vic Partridge for their efforts. Also thanks to Don Burt and Paul Strevens who made up their own working party!

The Directors and Secretary would also like to take this opportunity to wish you all a Very Happy Christmas and New Year and look forward to seeing you at the lake for another great fishing year in 2018!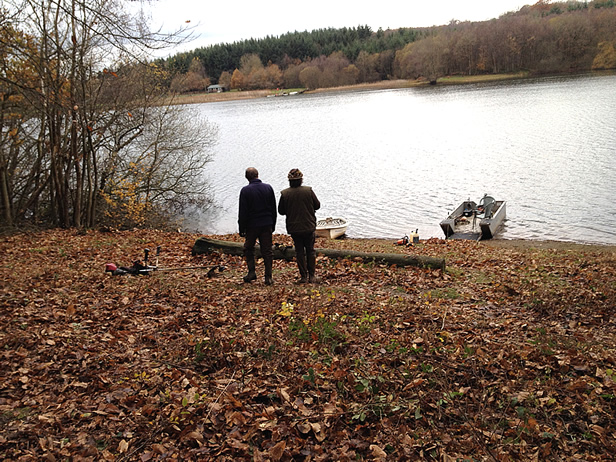 click on the picture for more images


November Newsletter

The colder weather at the beginning of the month certainly encouraged some promising fishing activity but the lack of sunny days reduced the number of fly hatches. As well as a distinct lack of Daddies to attract the trout anglers were using nymphs and buzzers with some success.
Several fish over two pounds were landed by Peter Ralph, John Noble and D Russell with the heaviest caught by Paul Strevens at 2lb 5oz on a buzzer who is the nominated October Fisherman of the Month.
We had a delivery of fish during the first week of the month and very few have been caught so far, so we hope for a few sunny days to stimulate a hatch and for the fish to resume their feeding. Vic Partridge is adamant that there are plenty of fish in Powdermill waiting to be caught but it will be challenging to search them out and tempt them to take your fly.
Boats are readily available for you to explore the water and try some exotic wet fly in the depths and perhaps hook a new heaviest fish of the year currently standing at 5lb 9oz caught in May .

There will be a work party on Thursday 23 November to tidy the cut-outs and reduce the growth of encroaching trees. This will reduce the chances of back casts catching in them. All you need to bring is a lopper and pruning saw and perhaps cake for when we have finished and adjourn to the clubhouse.
We plan to start at 0930 so if you can help please liaise with Tim Stacey on 01424 439633.
Powdermill Lodge is now occupied by the Bailiff and we wish him well in his new home.
October Newsletter

Good news, the air and water temperature at Powdermill continues to fall resulting in some new fishing activity.

The last week in September saw rainbow caught from the bank by club members using nymphs with some multiple catches. P Jenkins and J Noble caught five fish between them all just under two pounds on Diawl Bach and Damsel.

Our Fisherman of the month for September is John Noble with his catch of three fish the largest at 1lb 10 oz.

Flies are now proving attractive to the fish with Daddies and Hoppers. Vic Partridge had success with a Hopper earlier this week.

The advance weather forecast continues to show a lowering of the air temperature with some more rain forecast. This will continue to stir the fish to come up to the surface for feeding.

Restocking will now resume and the first of our postponed deliveries will arrive this week with more planned for this month.

As a member told me yesterday we should have an entertaining winter season.

So let us all get down to Powdermill this month to take advantage of the good fishing weather and book a boat to explore and find those rainbow trout.
OBITUARY: Edward (Ted) Stevenson

The Directors and members are very sorry to learn of the death of one of our longest serving members, Edward (Ted) Stevenson, on 12th September 2017.

Although Ted had resigned from the Club 3 years ago, due to his continuing ill health, he had still been able to visit the lake and Club House, on occasion, up to about a year ago.

During the time Ted had been a club member he had contributed a great deal of his time and enthusiasm in helping to run the Club. He was a Director for many years and, when he was in good health, he was always the first to organise and help with annual bank clearing and other manual work. He will also be remembered by many for his interest and pursuit of snakes around the lake and could often be seen over on the far bank, with his long forked stick, having discovered a snake asleep in the sun.

Ted's wife Bet was also a Club member for many years and they could often be seen together fishing in friendly rivalry. After her death some years ago, Ted donated a seat to the club in her name and when he was still able to get along the dam, he loved to sit there reminiscing.

He was a kind and generous man and it is sad to know we shall not see him up at the lake again, but he had many enjoyable years at the Club, and made many friends, and made a generous contribution with his time.

We send our condolences to his daughter Jane and family.
Fishing all set to improve!

Due to the water temperature at Powdermill ( currently 22 degrees ) the fishing has unfortunately been poor!

In fact it looks like the fish of the month for August will go to the ONLY fish caught in the month ( by a rather embarrassed John Noble ). Vic reckons the temperature needs to go down to around 17 degrees before things improve.

The good news is that we have a number of stockings owed to us by our suppliers that we have been able to defer until September and October when hopefully we should see some sport.

This happened last year and a lot of fish were caught in October, November and early December. I fact I recall Bob Sanger catching a 5lb rainbow from the dam in the late autumn.

Lets hope we can finish the season on a high note! Watch this space!
August newsletter

May, June, July and into early August there were Mayflies still hatching with Vic's special fly proving deadly as ever. Catching activity dropped off with the increased air and water temperature and the lower water level.

The exotically named flies did not appear to tempt the trout in July but Damsels and Hoppers and Diawl Bach were evident and a few anglers caught their maximum. The largest fish was a 3lb 1 oz. Rainbow caught on a Hares ear by a visitor to Powdermill. He or she cannot be identified as their name was illegible in the catch book.

However prime contenders for the members' Fisherman of the month nomination with maximum catches were Don Burt, Vic Partridge and R Medding.

But special mention must go to Dick Telford who put down his camera and in a special effort to catch a single rainbow managed to hook 16 Rudd. Looking through the catch book for 2017 this momentous event appears to be possibly the highest number of fish ever caught at Powdermill at one time by a single angler! This leaves him with the unenviable task of beating 17 by the end of this season.

So the Fisherman of the month for July is shared between R. Medding with a 2lb 9oz Rainbow caught on a Damsel and Dick Telford who is keeping his fly a secret.

Finally the Bailiff's new house has been completed with the exterior all painted and with the new terrace. The attached photo shows the latest but the interior curtains may be changed!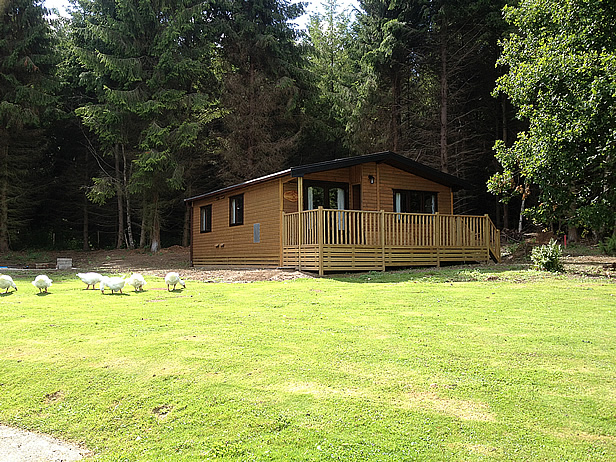 July Newsletter

The Mayflies were still very evident throughout the month of June and there were good hatches during the warm days and especially in the evenings. The winds were variable so there were some good catches from the banks and all boat fishers had success.

But many fish were also being caught using Buzzers and Nymphs tied on small hooks on long leaders. This variation in diet for the trout was used by several anglers from the dam on pegs close to the club house.

Many visiting anglers continued to take out a boat so they explored all the water. At the beginning of the month they had good catches as the mayflies were the preferred fly.

There were few large fish caught but Keith Blundell landed a Rainbow of 3lb 4oz and there were a few anglers who caught their maximum with fish around 2lb. But our Fisherman of the month nomination goes again to Terry Beeching who using a Mayfly (was it the Bailiff's design?) caught a 3lb 12oz rainbow. This is his second nomination and he still does not get a silver cup so we will wait and see at the end of the season what his reward may be.

The Club annual members competition was a well-attended event with 22 fish caught and congratulations to the winning member Derek Coles. The competition was followed by a BBQ with over 60 members and family and friends attending. Thank you to everyone who made the day so enjoyable.

As reported earlier the Bailiff's new house was erected and the utilities have now been connected. The terrace has been added with a beautiful view of the reservoir, a great place for an evening G & T.

The club was approached by Matt Lingard who is starting up a business of video advertising for companies so we are lucky enough to have a wonderful video of "Powdermill Hastings Flyfishers" to be produced and it is now available on the home page of the HFFC website. Starring members John Walters, Bob Sanger as the Anglers and Vic Partridge as The Bailiff and featuring the current resident Hobby catching a mayfly; with some great photography of the flora and fauna and historical details of the reservoir. We hope you all enjoy it.
Building works contine at a pace

The building work and construction of the two new buildings is now continuing at a fast pace with the arrival of a cottage for the Bailiff Vic Partridge.

Described in estate agent terms as a two bedroomed wooden cabin with fitted kitchen, full bathroom and lounge with outside terrace and private parking. Situated in a secluded wooded area with stunning views of the reservoir with its unrivalled wildlife and hard fighting trout. Also home to the famous wooden reindeer shown in the photograph. The building is now being connected to the main utilities and the exterior wood is being prepared for painting and the terrace will then be attached. The ground work for the second similar cottage for visitors has been completed and will be delivered very shortly.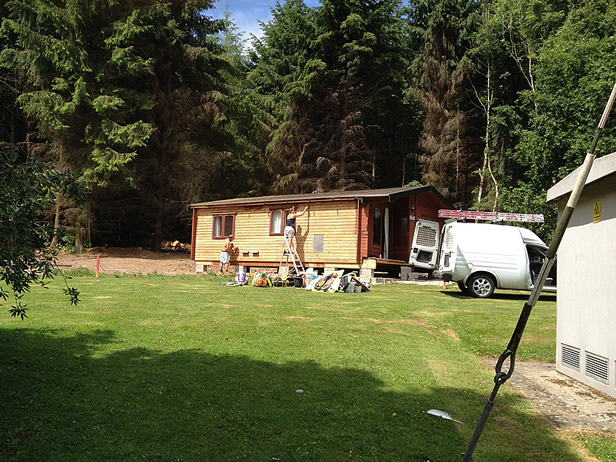 click on the picture for more images


Newsflash 20th June

The latest issue of Trout Fisherman magazine 21 June-18 July has a "Where to fish around the UK" article and features a half page and photographs of Powdermill reservoir trout lake and the fabulous Mayfly hatch.

A very positive article and a great picture of an unnamed very well dressed angler in boat number one with an electric drive about to land his catch. But who is this angler ? Is he a member or a visitor? If anyone knows him please let us know.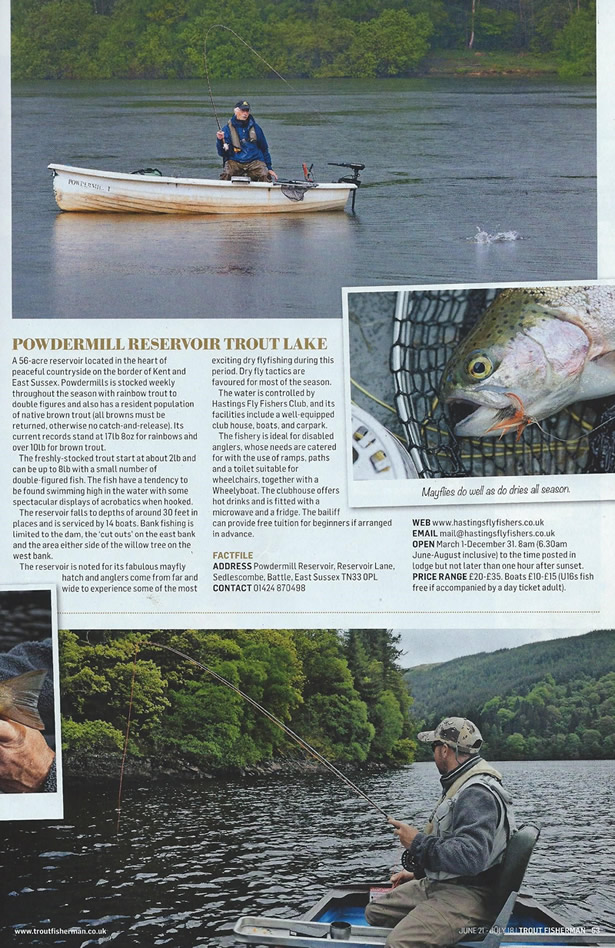 June Newsletter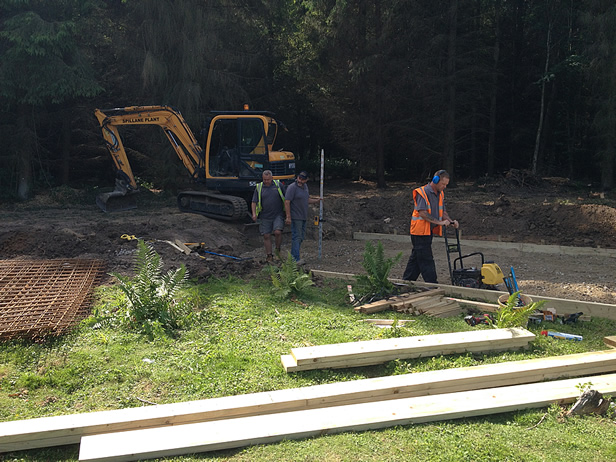 Click on the picture for more images

The Mayfly season arrived with some great catches and some difficult weather. On 26 April we had snow at Powdermills but our Bailiff Vic Partridge with Don Burt were already out boat fishing with Mayfly, caught their maximum and returned apparently looking like two cold snow covered abominable snowmen.

However it was a visitor Mr R Denney who caught a 5lb 9oz Rainbow on 4 May using a Mayfly and he can be seen with his fish on a previous latest news page.

For the rest of us we were spared the snow yet had to share the strong North East winds which made fishing from the dam awkward and boat handling tiring if you had to row. Yet in-spite of the changing conditions over 1300 fish were caught. Nearly all with Vic's special pattern Mayfly, a slightly different size and colour from previous years but Damsel and Buzzers were used during the bright sun days when fish were not taking off the top.

So May has been a good month for fishing and the numbers of visitors is increasing with 225 in May with many using the boats. For some it was the first time they had been to or heard of Powdermills so let's keep up the momentum to increase their numbers. The fishing statistics page has now been updated so you can see the latest details of catches and visitors and largest fish and fly details. There will be some further changes to the website in June that were discussed at the AGM in March. There was keen competition for the Fisherman of the month with special mention of two members for their strange sounding exotic fly, Phil Streeter for using a Baby Doll and John Thackray for an outrageous Orange Fritz. Will these make the fly of the year pages?

But for using "conventional" flies and for two good size catches of 3lb 9oz and 2 lb 10oz the May nomination for Fisherman of the month goes to Mick Wood.

Work has commenced on construction of the site of the new three lodges adjacent to the club house. Some trees have been felled and ground work was very much in evidence this week. More photographs will appear as work progresses.



Newsflash : 25th April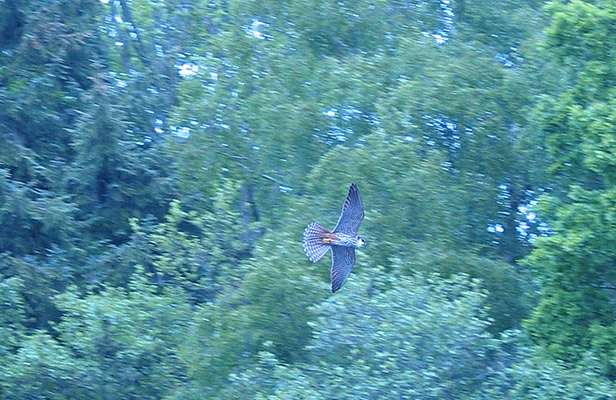 Click on the picture for more images

Last Friday we were hit by small incredibly heavy torrential showers. Did this have any effect on the hardy souls already out on the water? Not at all - they were all having an incredible time catching our hard fighting rainbows!

The anglers are not the only ones benefiting from the mayfly hatch. It has been possible to see up to eight Hobbys at a time picking up the mayfly in their claws whilst in flight and transferring them to their beaks. These dashing little members of the falcon family are always a joy to see at this time of the year.

Dick Telford kindly sent in some of his excellent photographs. He also remarked on how well his new Snowbee waterproofs coped with the deluge.



May Newsletter

(Apologies for delay John Varley sent it to Chris and he only just remembered to post it up!)

The good start to the season continued in April with many six fish limits being attained by both club members and particularly by visitors.

There were no monster fish caught with most fish at just over 2 lbs 2 oz. but all were hard fighting and very selective what they were caught on. Nymphs and buzzers were again the popular choice of flies for most fishermen with dry flies in evidence at the end of the month.

There were good catches from the dam as the winds were more often favourable and not from the north or north east blowing into your face.

Boats were being used by our visitors who were all catching their limit. This is a reminder to book a boat in advance of your visit as with the Mayfly season now starting they will be at a premium.

The last piece of the boat dock is still afloat and attached to the dock so the expense and time of the work party was well spent. There are some extra photos in the club house of the antics of the work party which will not be seen on the website.

There were several members who were considered for this month's Fisherman of the month recognition award with six of them all catching their limit on more than one occasion but one person showed more consistency on each of his visits and that is Don Burt who is the April award nominee.

Le Picnique: 9th May


Every year we have a visit from a delightful party of anglers from Northern France once the mayfly hatch starts. They fish in the morning but by 1.00pm they are all back on dry land setting up "le picnique" which is a ritual taken very seriously. They are always very hospitable to passing anglers with their copious supply of wines and aperitifs. They had a great time and by late afternoon they had all appeared to have bagged up despite some boat control issues occasioned partly by the vicious north east wind.

When I arrived yesterday afternoon I was fortunate to take the last boat on the jetty so I would strongly recommend any intending to visit to phone our bailiff Vic Partridge on 01424 870498 ( best between 9.30 - 10.30am ) to reserve a boat





Comments from a happy visitor : 7th May


I thought you would like to see the stunning fish I caught on Thursday which turned out to be a new PB. I can't thank the club enough for an enjoyable day and for allowing guests to fish your fabulous water. My Father and I had a tremendous day. What Vic and the club do to keep the fishery in the wonderful condition it is is remarkable: The quality of fish stocked are superb and I very much look forward to returning again soon.





Newsflash : 5th May


The mayfly have been hatching in increasing numbers all week despite the chilly north wind. A glance at the catch book shows numerous bags of 6 fish have been taken on dry fly. Only yesterday a visitor landed a beauty of 5lb 9oz on a dry.

Just over a week ago we had a freak winter sleet/snow storm lasting just a few minutes. To everyones amusement who should be out in a boat but our bailiff Vic Partridge and member Don Burt who was desperately trying to catch the last of his six fish. According to reports they looked like a pair of snowmen ( abominable? ) when the storm cleared.



Newsflash : 25th April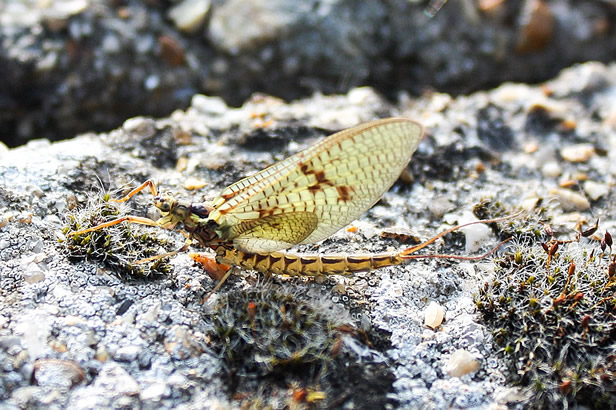 <

Click on the picture for more images

The reservoir continues to fish well and some good bags are being taken. Latest stockings have produced some very hard fighting Rainbows so there is plenty of good sport to be had.

Over the last few days anglers have begun to notice mayfly emerging and it is rumoured that Dick Telford has already caught on a dry mayfly. This trickle should soon increase to our usual level of mayfly hatch so if you are looking for some action packed dry fly fishing get down to Powdermill.

The spring colours are a sight to behold at the moment and while her husband Martyn was fishing on Sunday Sue Brignall took these lovely pictures.



Pictures from our recent Sussex Flydressers Competition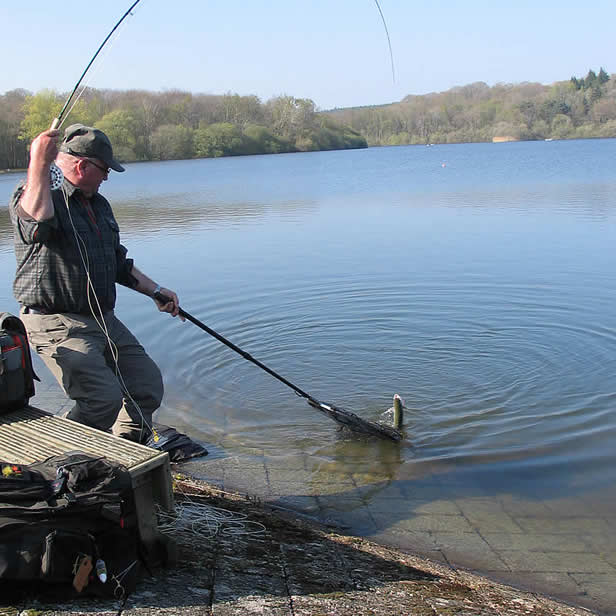 <

Click on the picture for more images





NEWSFLASH 8th April 2017


Our annual competition against Sussex Flydressers took place on Saturday. This was a very close run affair with nearly 100 fish caught only 13.5 ounces separated the teams with Hastings Fly Fishers the victors with a total weight of 85lb 10oz compared with Flydressers 84lb 12.5oz. The match took place on a perfect spring day and was followed by an excellent BBQ.

Largest individual bags were as follows;
Mr Watson 11lb 5oz
Mr Walters 11lb 2oz
Mr Croucher 10lb 12oz

Best fish Mr Russell 2lb 7.5oz
Best fish boat Mr Wood 2lb 2oz
Best fish bank Mr Strevens 2lb 1oz
Best bag boat Mr Black
and best bag bank Mr Payne




NEWSLETTER April 2017


A good start to the season with high water at Powdermills and well stocked with some great fish to catch. The water was remarkably clear and the weather was favourable. On the third day a 5lb 1oz Rainbow was caught and the following days saw several fish over 4lbs and many anglers taking their six fish limit. Boat fishing was popular and fishing from the dam was bringing good results. The fish were caught mainly on a variety of buzzers and also damsel flies.

At present the water is very clear and the winds are favouring fishing from the dam. If you want to fish from a boat weekends are popular so do not forget to book in advance. The word has gone out that we are going to have a good season and the numbers of visitors is most encouraging with many of them taking boats and catching their limit. See previous latest news photographs to confirm the catches.

On Monday we had a working party of seven members who repaired and re-floated the last piece of the boat dock which had become partly submerged. New floats had been purchased that are watertight so will not sink. Unfortunately none of the members had brought any sparkling wine for the launching and renaming ceremony so we ate Lemon drizzle cake and drank coffee instead. All very PC and in accordance with health and safety! Watch out for some photos of your fellow members in marine engineering action.

We plan on a monthly newsletter this year to highlight events at HFFC and encourage you to send in photographs of fishing action. We are also going to select a Fisherman or Fisher lady of the month from our members for a special accomplishment during the previous month.

So for March the award goes to Terry Beeching for the 5lb 1oz rainbow trout caught on 3rd March using a bloodworm. Sorry, no silver cup for this and to prove that size does not matter we will look at other fishing activities for this award.




Newsflash 6th April 2017



A few days ago Vic the bailiff was in his house when he noticed a van ( which he didn't recognise ) drive past and park in the car park. It was only just light and thus far earlier than most of us commence fishing. He went up to the lodge and could see someone tackling up on the dam. After completing his normal morning routine ( getting the log burner going for our members ) he noticed that the van driver had not completed the book or ( most importantly ) paid.

Vic strolled along the dam to confront the person and was amazed to see him reading the paper with 3 rods out all equipped with electronic bite alarms. He also noticed a spinning rod assembled for action with a huge plug attached.

After a friendly exchange of good mornings Vic asked him what he was fishing for.

Angler: "Pike"
Vic: "Sorry to spoil your day but there are no pike in this water"

Angler: "There must be. I've been told that there is a good head of pike here".
Vic: "Who told you that?".

Angler: "Members of my club Cranbrook AC".
Vic: "Then you've most definitely been misinformed. There are no pike here".


At this point the angler's face glazed over.

Vic: "Do you know where you are?".
Angler: "DARWELL RESERVOIR"


It would appear that he relied on his sat nav. ( never a good idea ) to bring him to the general area then spotting an expanse of blue on the map jumped to the conclusion that it must be DARWELL Reservoir!

The POWDERMILL reservoir is fishing well at the moment. The water level is full and the water is lovely and clear. Good bags of Rainbow are being taken on a wide assortment of flies.




29th March 2017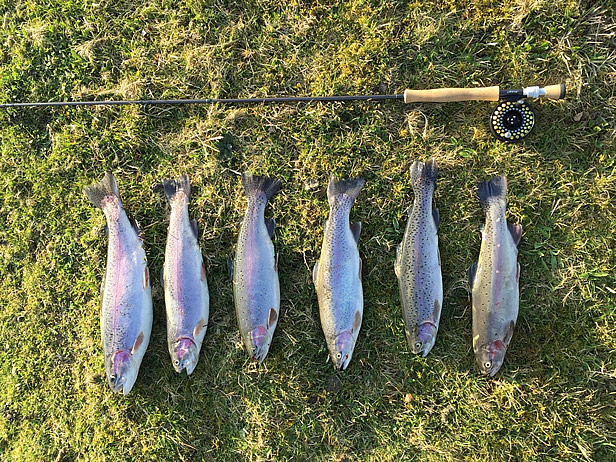 A Great days fishing from one of our new members Will Lewis - well done!!




COME ON OUT ITS FISHING VERY VERY WELL !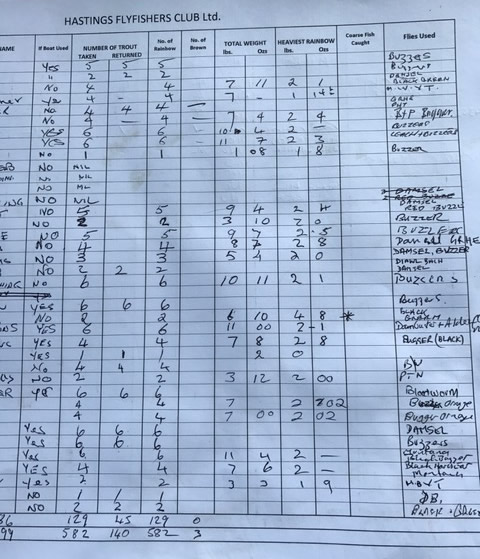 Tim wondering what to do with new jetty floats!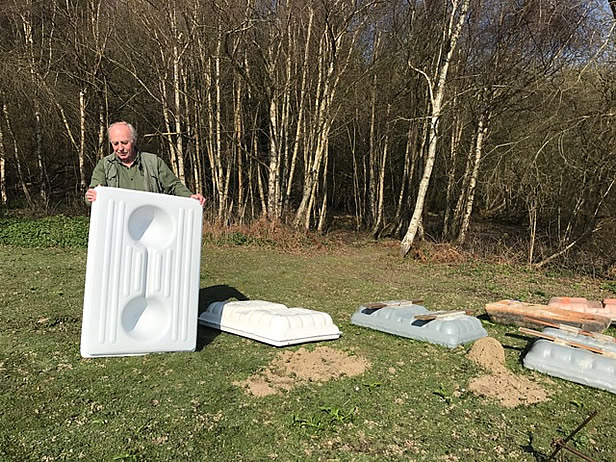 Some more pics of Powdermills at its best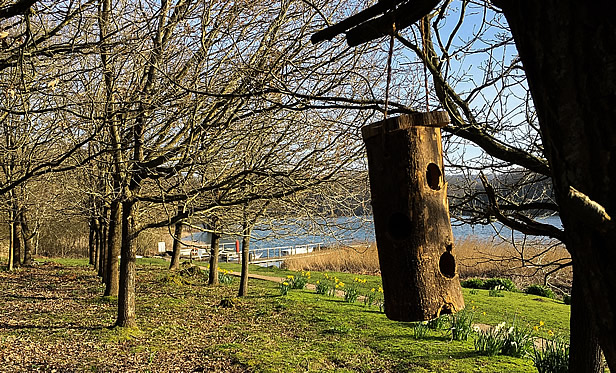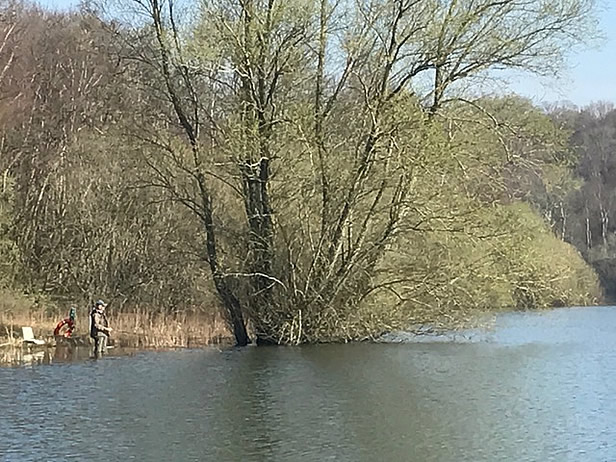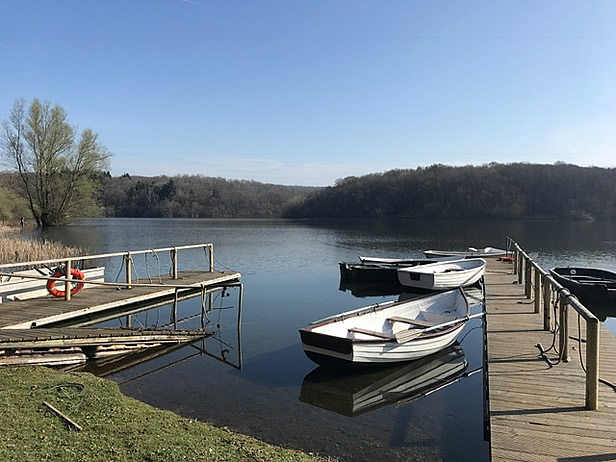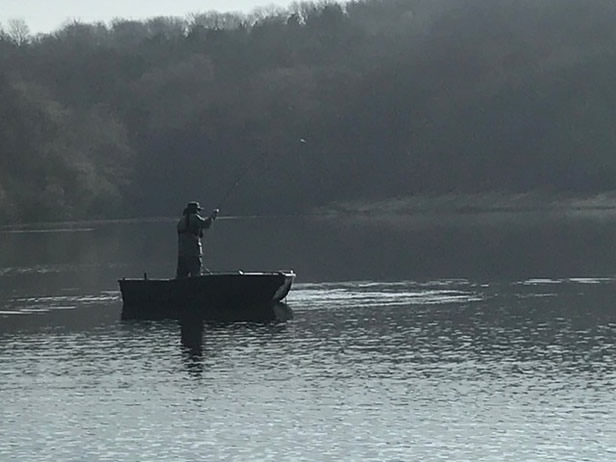 13th March 2017


Gary Dyer kindly sent in the attached photo showing water starting to trickle down the overflow. Not only do we have a fully stocked reservoir but as an added bonus it is now full of water!

Sue ( ace photographer ) Brignall was able to take some photographs on Saturday ( a beautiful warm early spring day ) whilst her husband Martin was catching his usual bag of 6 fish.

Pictured are Keith Blundell fishing with John Austen, Geoff Pilcher in a boat and Bob Sanger landing a fish from the dam.

I understand that all of the aforementioned caught 6 fish on the day.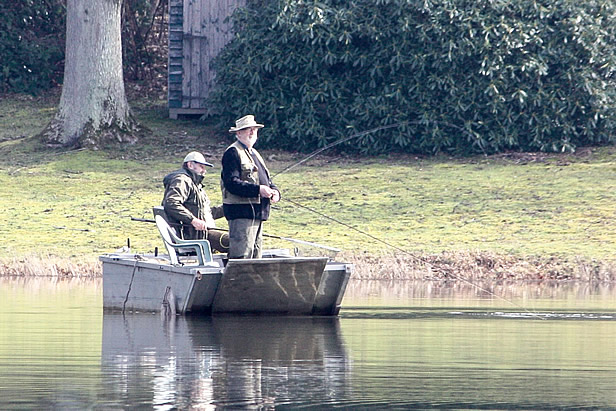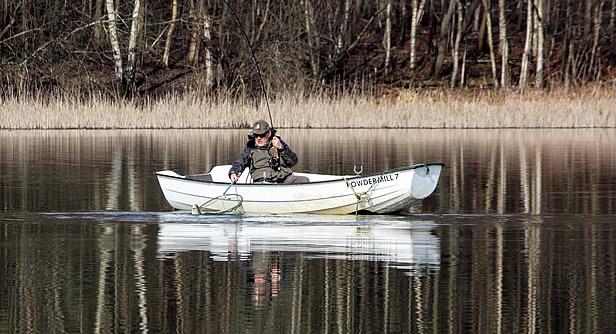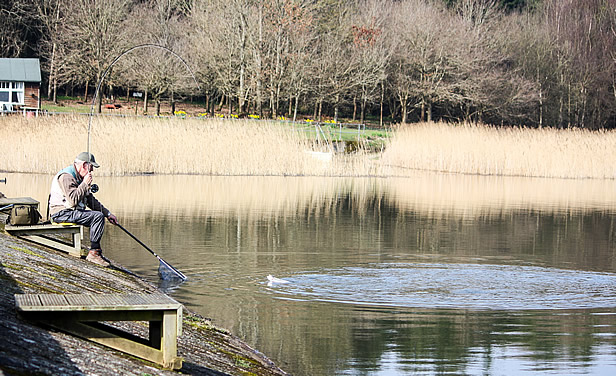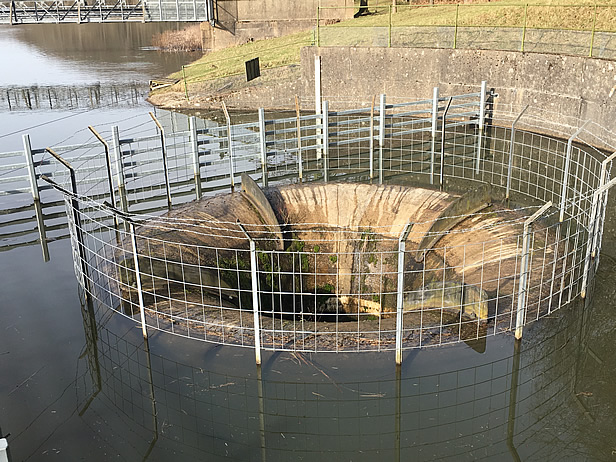 8th March 2017


At Powdermill we seem to be in a most fortunate position at the moment in that our water level is only a few inches below the full level.It is anticipated that it should be completely full within a few days. Several other local East Sussex/Kent waters still are a long way from full which necessitates fishing in deep and slippery muddy conditions.

Several bags of 6 fish have been taken in the last few days by bank anglers and 4 fish of 4lb and over have been caught in the past week. Yesterday member John Noble landed a superb fish of 4lb 8oz from the dam.



Newsflash : 7th March 2017


A steady start has been made to the new season with some good bags being taken. Indeed 2 rainbows in excess of 4lb have been caught. This is despite a plague of broken/damaged wrists and arms which has struck many of our members in the run up to the opening day! We wish Paul Strevens, Tim Stacey and Keith Blundell a speedy recovery and look forward to seeing their names in the catch book again.



5th March 2017


"At the AGM on the 5th March, the Darwell Cup for the heaviest fish of the season was won by Gary Dyer with a fine rainbow weighing a smidgeon under 6lb.

On inspection Gary saw the cup dates from 1956, shortly after the time when his Grandfather took him out for a days fishing at Powdermill. Gary cannot recall whether their efforts were successful, using the split cane rods now consigned to his attic. However he does remember the existing club hut as it then was.

Members were able to leave their rods assembled in racks along the wall, held in place by hinged wooden pegs. Adjoining were pine cupboards for tackle and kit, each with a brass mount for the members personal or business card. Tilley lamps for lighting of course! The door was left unlocked.

The original hut still stands. Notwithstanding various improvements during the last 60 years years, it retains its character including the clubroom with library and wood burning stove faithfully maintained by Vic the bailiff. In an age of increasingly sophisticated fisheries, Powdermill offers the chance to step back in time and enjoy its unique surroundings without sacrificing the chances of a good bag."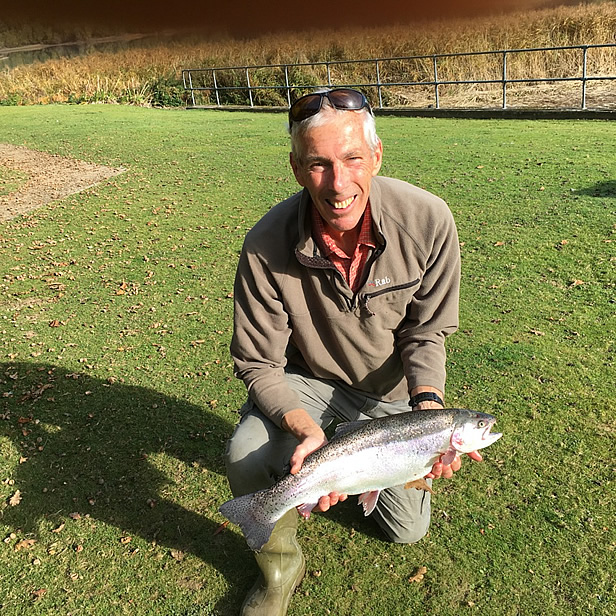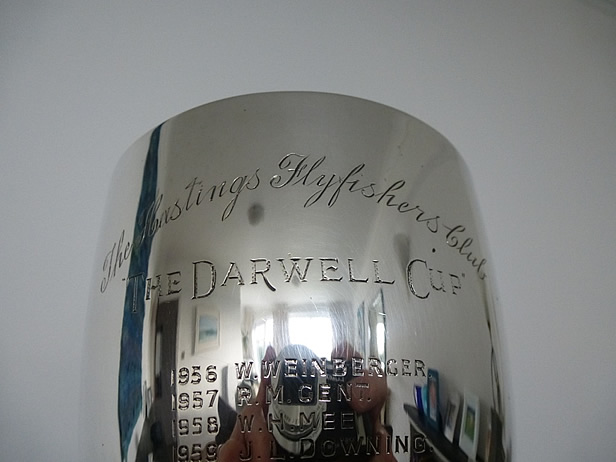 1st March 2017 - START OF NEW SEASON!!!



News Flash 14th February 2017


Today we received a consignment of 600 superb rainbows ( as counted and verified by Don Burt ) in readiness for the start of the new season on 1st March 2017. More deliveries will take place before the end of the month. The photo shows Don and Vic Partridge ( Powdermill's bailiff ) superintending the business end of the delivery chute.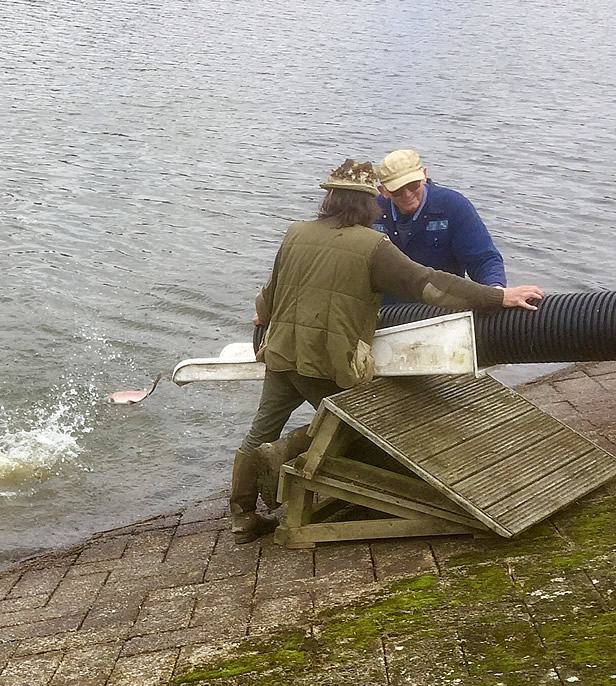 News Flash 12th February 2017


NOT LONG TO WAIT UNTIL START OF SEASON

The new season starts on 1st March. Only just over 2 weeks to go!

The reservoir water level is only around three feet down and rising. Hopefully it will be full by the end of the week. Stocking has commenced and so all being well we should have a fully stocked full reservoir for the start of the 2016 season.


News Flash 17th November


The reservoir has been fishing well this week now the water temperature has dropped. On Tuesday four members fishing near the lodge in front of the reads and in the corner of the dam all caught and saw plenty of action on hoppers and daddies. Richard Telford caught 3 including a beauty weighing 5lb 3oz.

Looks like we have a window of opportunity to catch a few fish before the onset of winter and with the beautiful autumnal colours a trip to Powdermill is highly recommended.


News Flash Monday 31st October 2016

Good News!

The water temperature at Powdermill has now fallen from a 20.5 high to a more seasonal 15 degrees and this seems to have brought the fish back onto the feed. Over the last 4 days 28 rainbows and one brown trout have been caught and last Friday member Bob Sanger landed a rainbow of 5lb 10oz as part of his 6 fish bag. Another bag of 5 fish was taken by another member yesterday.

Nearly all of these fish were caught from the dam.
Take the chance to enjoy this exceptional autumn sunshine at the beautiful Powdermill Reservoir before the onset of winter.


LATEST NEWS - AUGUST 11th 2016

Member Dick Telford was quietly minding his own business this afternoon fishing from a boat near the bubbles enjoying the sunshine when all of a sudden a rainbow leapt from the water and landed on his lap and then finished up in the bottom of the boat. Ever the sportsman and witnessed by his boat partner Dick ensured the fish was returned to the water non the worse from it's experience. The big question must be - who was the most surprised, Dick or the fish?

Sadly two hours later Dick had failed to attract any interest to the business end of his line!



THE NEW POWDERMILL MAYFLY

ITS NOW OFFICIAL POWDERMILLS MAYFLY IS CALLED THE MAYJUNEJULY FLY !

June saw just under 300 fish caught on the mayfly and we are still seeing lots of hatches and catches in July.

There has never been a better value time to visit us with July and August all day tickets reduced to just £25! The lake is very well stocked so don't miss out on this great opportunity for some of the best fly fishing in the south east.


Club Competition Friday 24th June 2016

The event was brought forward from its usual time in August in the hope that this would improve catches. This certainly worked with nearly everyone getting amongst the fish with several catches of 5 or 6 rainbows. It was a great day and the only disappointing aspect was that the number of participants was down. It was a shame that it was not better attended as it was a super days fishing.

Paul Strivens was a worthy winner with a bag of 6 fish totalling 10lb 2.5oz.
Joint second place went to Terry Beeching and Peter Ralph who each had 6 fish for 9lb 11oz.

Finally a big thanks to everyone who helped and the high quality raffle donations, special thanks toVic his hard work preparing the venue and to his son Lee for laying on an excellent BBQ. Sue Brignall became our official photographer and some of her great photos are below.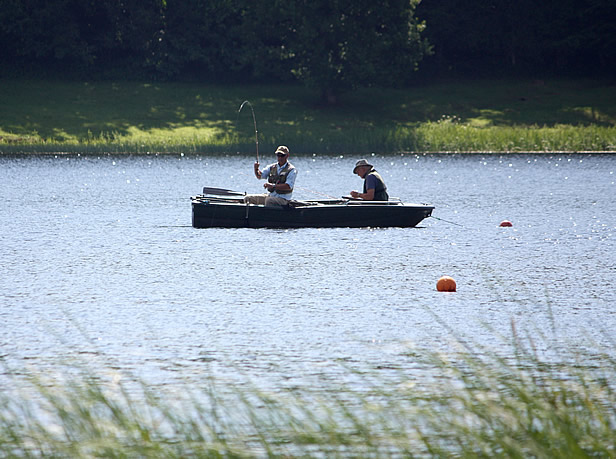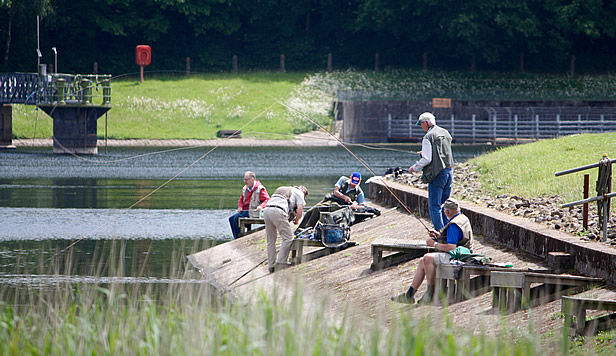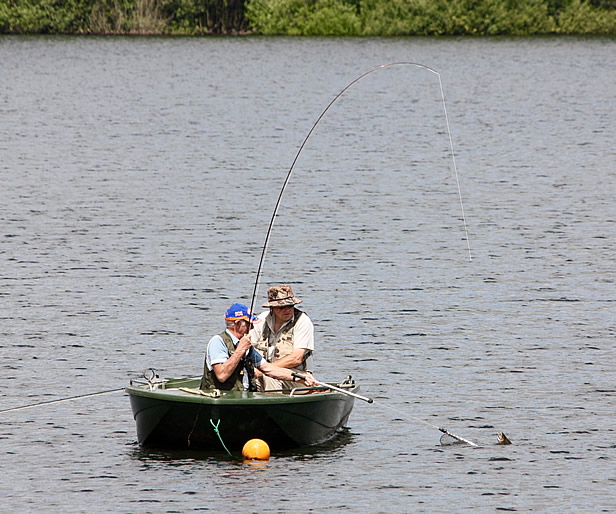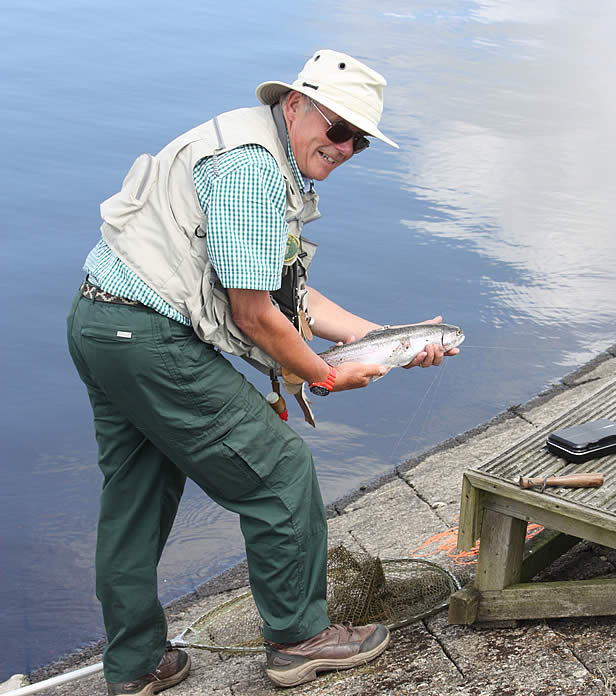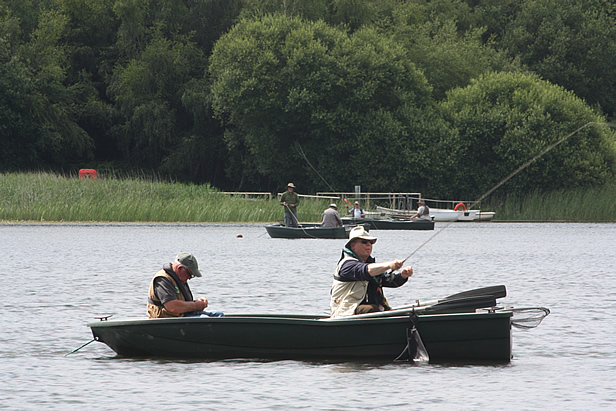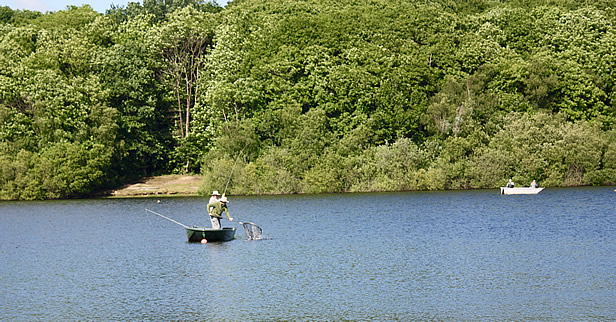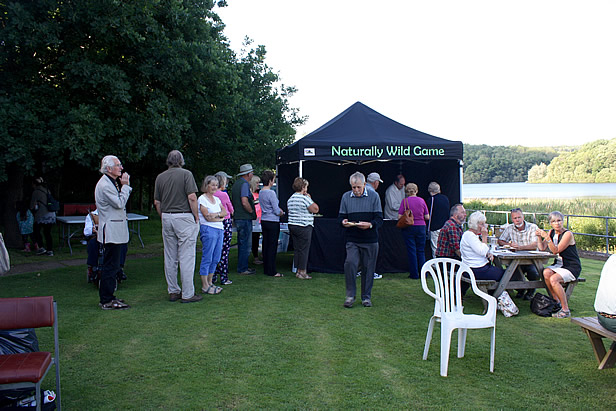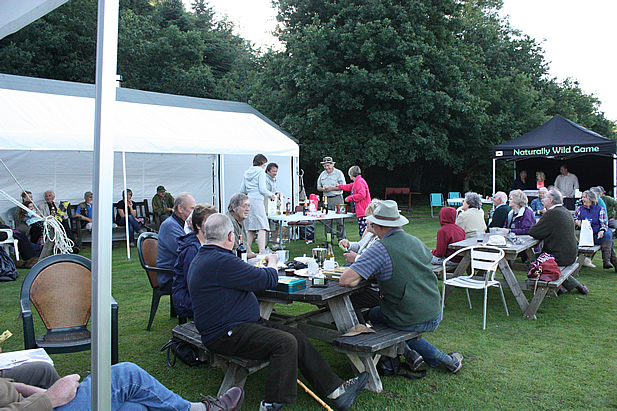 URGENT NOTE FOR MEMBERS - CLUB COMPETITIONS

If you are not already aware our annual club competition and BBQ takes place this Friday 24th June. If you intend to participate and you have not yet informed Vic or Mary could you kindly do so as a matter of urgency. They will also need to know if you will be attending the post competition BBQ and prize giving.

If you would like to donate a raffle prize please can you give it to Vic. This year we are also providing a breakfast bacon roll!

Boats will still be available for visitors on this day.

Our KENT v SUSSEX match takes place on Friday 8th July. As usual this will be fished from the bank. If you would like to participate please contact Vic asap



Monday 6 June 2016

At least it is warmer this week. Last week on a couple of days the temperature was lower than that on Christmas day! This made the dam an unhospitable place for those who ventured out to fish from the bank. Having said that there was no shortage of fish being caught. Mayfly are continually hatching in numbers and the trout are feasting on them as can be seen from the surface action.

This month will see the majority of the dry fly action so a visit to our fully stocked reservoir surly is a must for all fly fishermen ( and women ).

Some days there have been very few boats left on the jetty come late morning so it would be prudent to phone our bailiff Vic Partridge between 9.30am and 10.30am to make a reservation.



Newsflash Wednesday 18th May 2016

The mayfly have officially arrived with hatches increasing by the day! The rainbows in the fully stocked reservoir seem to have cottoned onto what a good source of food they are judging by the surface action yesterday and the corresponding catches.

If you fancy some fast and furious fly fishing then get down to the reservoir as soon as possible whilst the action lasts.

Boats are proving very popular so to avoid disappointment especially if you have driven a long way it is recommended you ring our bailiff Vic Partridge to reserve one. You can get him between 9.30am and 10.30am on 01424 870498. Take a look at these great photos taken recently by Martyn Brignall's wife Susan whilst he was fishing. Two are of Paul Strevens hooking, playing and landing a rainbow and the other 3 are wildlife near the dam.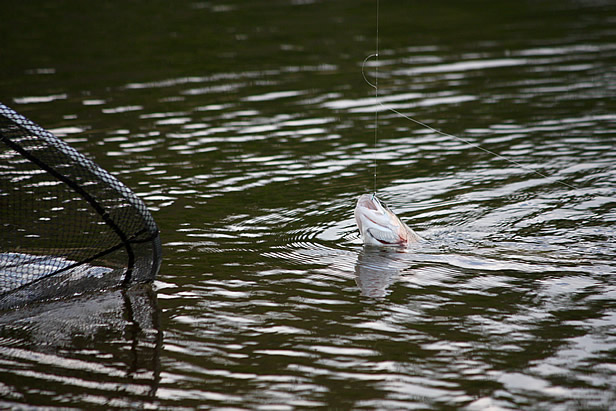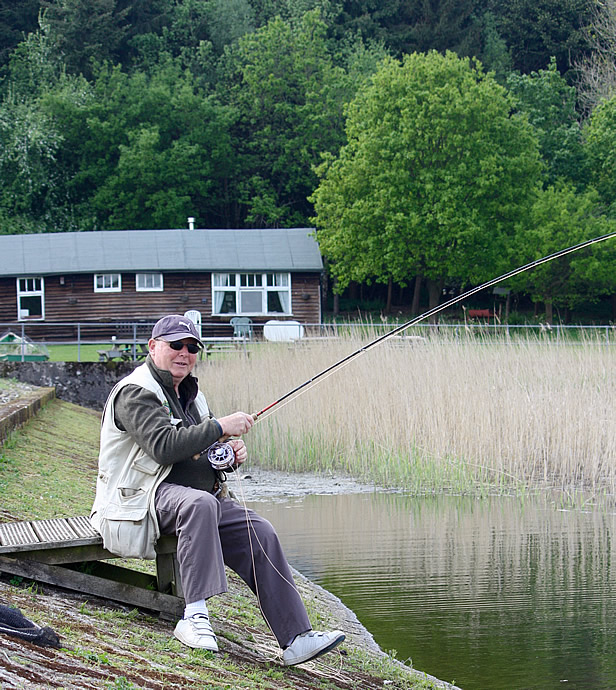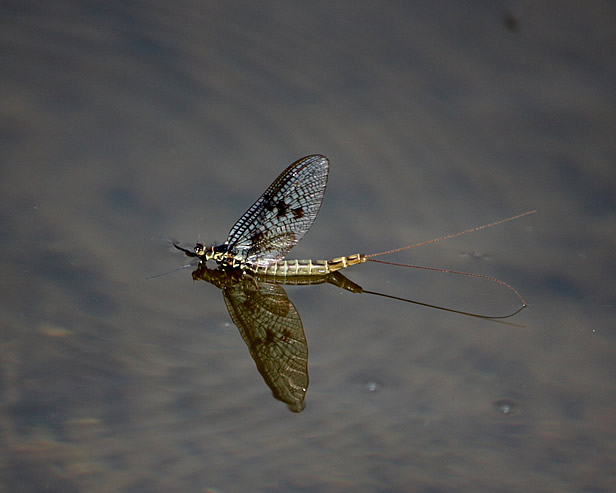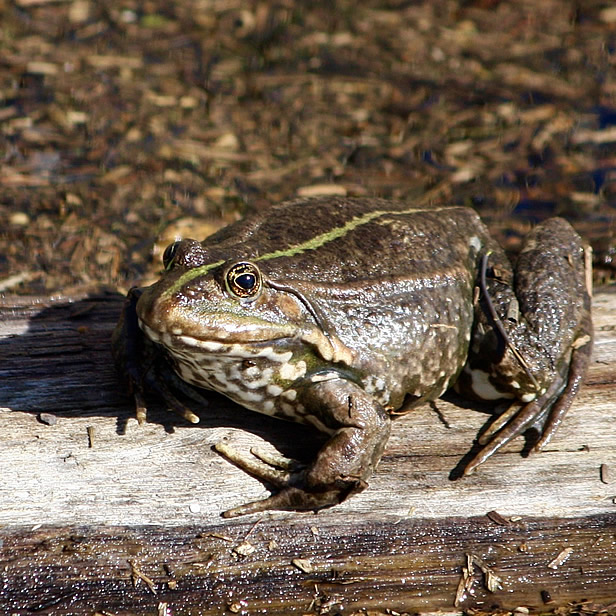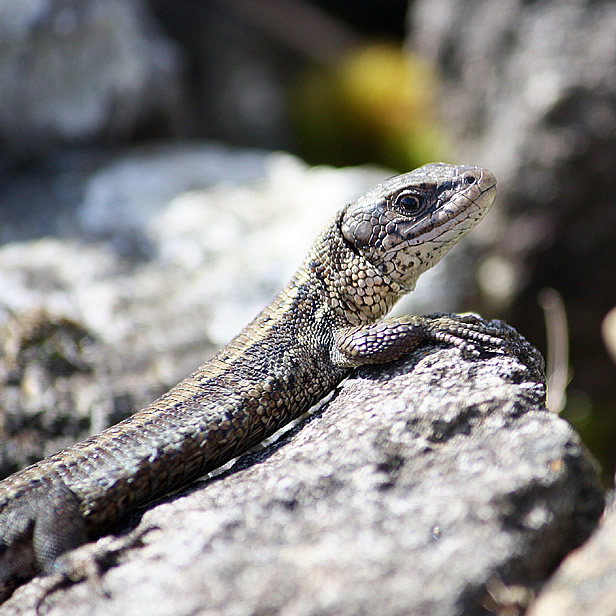 Mayfly

The first mayfly have been spotted at the reservoir. The big question is now who will be the first to catch on a mayfly this season! With calmer warmer weather arriving it is suggested a visit to Powdermill should not be delayed.

The water is fully stocked with a fine head of fighting rainbows and most anglers are taking a good bag. To avoid disappointment at the approaching busy time if you would like to reserve a boat please ring our bailiff Vic Partridge on 01424 870498 between 9.30 - 10.30.


Fishing Competition

Our annual competition at Powdermill Reservoir against Sussex Fly Dressers Guild took place last Saturday 9th April. The match usually takes place at the end of June/early July but had been brought forward in an attempt to improve catches. This certainly worked as in fact only one blank was recorded. Ironically this unfortunate person is a much respected member of Hastings Fly Fishers who has recorded bags of 6 fish in his previous visits this season.

A total of 59 fish were caught with a total weight of 110lb 3oz. Of this 67lb 6oz were caught by SFDG and 42lb 13oz by HFF. A resounding victory for SFDG gaining revenge for last years narrow defeat.
The heaviest fish weighing in at 4lb 9oz was caught by Mr Raw of SFDG.
Heaviest bags were taken by the aforesaid Mr Raw ( 12lb 4oz ) and Ray Burt ( 11lb 12oz ) both SFDG.

The warmer weather this week has brought about an increase in the number of anglers and several bags of 6 fish have been taken. Mayfly nymphs, damsels nymphs and montanas have been used successfully. If you are taking a boat out it might be worth expending the energy to row to the western arm where there appear to be plenty of fish


April 15


'Some more great photos from Bob Whelan showing why you should hurry out to visit us! The real reason for his visit was to catch his limit which he and his guest Peter Rogers succeeded in doing.'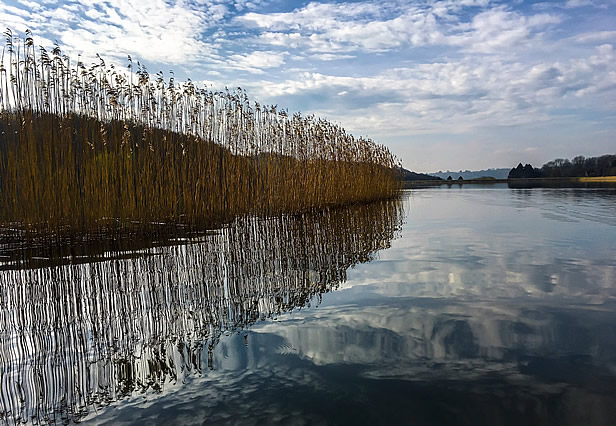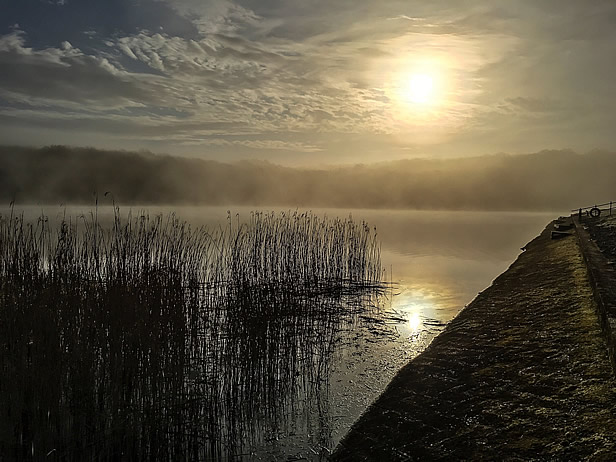 April 10

"Powdermills at its best on Sunday 10th April " photo by Bob Whelan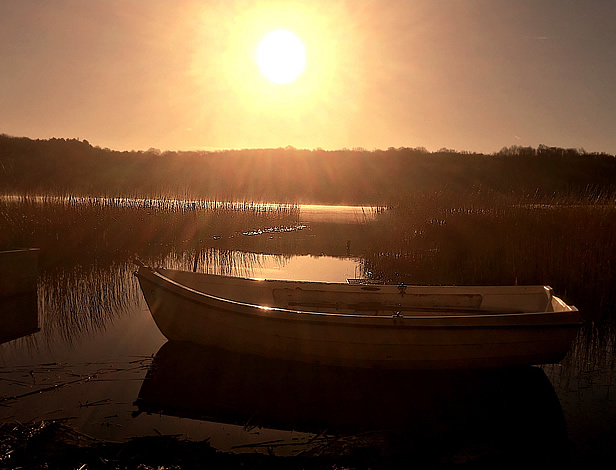 April 08

Although a rise in temperature would not go amiss most anglers are catching fish and in fact several have caught 4-6 rainbows. Even the writer managed 6 last week ( see picture ).

The reservoir is fully stocked with splendid rainbows and a visit is highly recommended.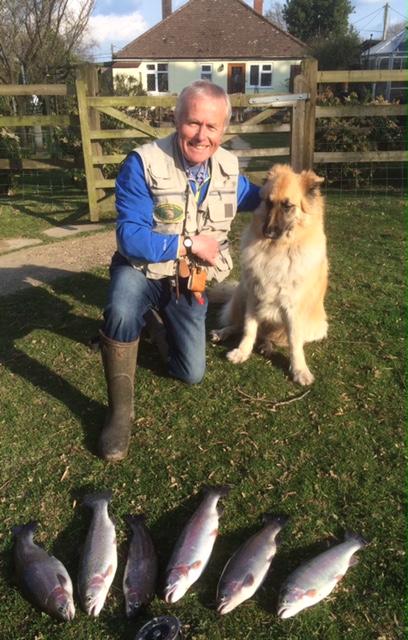 April 08

Managed to tempt 6 very hard fighting rainbows today, all of them around 2 lbs. 4 were caught on a mayfly nymph and the other 2 on a tiny black buzzer. Things are looking good for an early mayfly hatch.

Malcolm Holden


March 31

Storm Katie left its mark with three large pine trees down near the entrance to the reservoir. Fortunately, it did not block the driveway so it's business as usual.The wind was so strong on Monday that Vic deemed it necessary to ban the use of boats as a safety measure. On the rare occasions he is forced to do this he will always put a "NO BOATS" message on the boats blackboard at the entrance to the lodge.The strong winds and disappointing weather over the Easter holiday kept numbers down but most of those who did fish managed to catch (yours truly excepted!).

We had a delivery of fish yesterday and hopefully with warmer more settled weather forecast we can get on with some serious fishing. The stocks are high!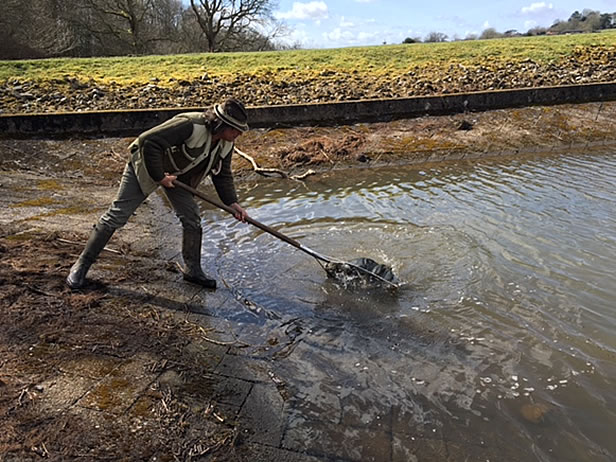 March 18

There was most definitely a call for thermals with this weeks perpetual freezing North and East winds blowing down the reservoir. We are now fully stocked and some of those hardy souls who did venture out got amongst the fish.

On Tuesday John Noble fished the dam and accounted for a fine bag of 6 rainbows totalling almost 12lb and this morning two visitors took 6 fish each.

The fish were taken on a wide variety of flies including buzzers, nymphs, mayfly nymphs and damsels. It appears to be a question of seeing what works on the day. Here's hoping for some gentle south westerly breezes as soon as possible.


March 9

Looking at the catch book for Monday and Tuesday of this week several anglers have caught between 4-6 fish. The successful flies are mainly Nymphs and in particular Mayfly nymphs.

I must give a mention to member Don Burt who after a couple of blanks has got his season off with a bag of 6 fish. Two of these were hooked on one cast and he was fortunate to have Vic on hand to assist with netting them. Another delivery of 300 fish is due later this week and after todays rain eventually clears the weather for next week or so looks quite reasonable.


What a super fish! Plenty more where that came from!

"Fished today in glorious sunshine although, a little chilly. John Walters fished the bank next to me and lost a fish and shortly after hooked this beauty which I landed for him. 5lb 9oz. In perfect condition and gave a good account of itself. John was happy for me to pass the photo onto you. I caught my six after john left. Biggest 2lb 8oz. All fish caught on green damsel nymphs."

Dick Telford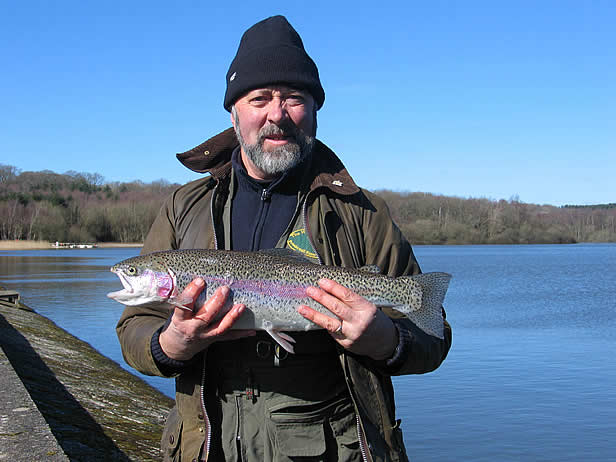 Friday 4th March

After a grim start to the season weather-wise yesterday proved a much better day (as predicted by yours truly!) with nine anglers catching 19 fish between them.

So far nymphs seem to be favourite and in fact the visitor who caught 5 rainbows from the eastern bank on the opening day actually spooned his fish to find them full of mayfly nymph.

Vic reckons this to be remarkably early in the season for mayfly nymphs to be out of the mud, in fact on Wednesday he had a few casts from the damn and landed a 4lb 10oz fish on a Walkers mayfly nymph!

Another consignment of plump rainbows arrived yesterday so if you fancy trying your luck at the weekend there should be plenty of fish out there.
OPENING DAY

After 9 or 10 dry but cold days the eagerly awaited opening day 1st March finally arrived.

What a disappointment weather wise. We were met by a strong cold south easterly wind with continual horizontal rain. For once the Met. Office had got it right!

This no doubt put a lot of intending anglers off and in fact only one boat ventured out and that was not until the weather calmed down and the rain stopped around 2.00pm.

In all 9 hardy souls fished taking 9 rainbows between them with one visitor fishing the eastern bank catching 5 fish.

The weather looks dryer later in the week with Thursday looking promising. Let's hope more of you can get the season off to a start.
NEWSFLASH 23rd FEBRUARY

A bumper load of 610 fish were delivered this week.

The delivery consisted of beautiful fish of various sizes

from 2lb to 4lb



BOATS FOR 1st MARCH

Vic already has a number of bookings for boats for the first day of the 2016 season

Which is just next week !


If you were planning to fish from a boat next Tuesday it is recommended that you call Vic (between 9.30am and 10.30am) on 01424 870498 to avoid disappointment.
FISH DELIVERY 18th February 2016

Our first delivery of Rainbows arrived from Hook Springs today. The fish were in the 1lb 8oz - 2lb bracket.

The pictures show the Hook Springs man unloading from the tanks and fine net full of fish which our Bailiff Vic Partridge releases into the reservoir.


NEWSFLASH MONDAY 15th FEBRUARY

The new 2016 season starts two weeks tomorrow on TUESDAY 1st MARCH Let's hope it's a bit warmer than today!

We expect the first of our fish deliveries towards the end of this week with a bumper 610 fish delivery early next week which should include some larger specimens.

I will try to post some photographs ( weather permitting )

If I recall for the last few years Diawl Bachs, Montanas and green nymphs have done well early in the season. Perhaps now is the time to check your tackle box in readiness.



NEWS EDITOR

Peter Ralph will now be looking after the News section of the website.

If you have any items you would like to include in this feature please email them to Peter on pete.ralph@btinternet.com or call him on 07768 625570.



09 Feb 2016 - 2016 Season starts 3 weeks today

DON'T FORGET! 2016 season starts 3 weeks today. Three fish deliveries are due before the month end. Let's hope the weather will be kind so that the delivery vehicle can get easy access to the reservoir.



TONY TUBB

It is with great sadness that we note that the Club has lost a long standing and loyal member. Tony Tubb has been a supportive and enthusiastic member of the Hastings Flyfishers' Club for over 50 years and we were sorry to learn of his recent death.

Tony was always charming, a real gentleman, and well liked by all who knew him and met him. He was a great sportsman in his youth and always enjoyed his fishing and his visits to Powdermill over the years. He will be missed by everyone at the Club and we send our condolences to his family.