Trout with Fennel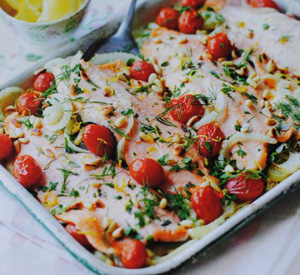 All the supermarkets have recently been publishing trout recipes in their magazines as farmed trout is currently seen as a relatively cheap fish. ASDA have produced this recipe which uses fennel which is rich in Vitamin A and contains calcium, phosphorus and potassium. Having tried it your Hastings Flyfishers Chefs can confirm that this is a very flavoursome way of serving your trout.


Ingredients:
4 Trout fillets
3 fennel bulbs - 350g trimmed weight
2 shallots - finely chopped
1 garlic clove - finely chopped
1tbsp chopped parsley
1tbsp fresh thyme leaves
250g baby tomatoes
25g pine nuts
Lemon zest
Olive oil for greasing
25g butter
150ml dry white wine


Cooking Method:
Preheat oven to 220C/200C fan/Gas 7.
Grease shallow oven proof dish.
Thinly slice fennel and place in dish with shallots, garlic, herbs and wine.
Scatter bits of the butter on top. Season.
Place a damp piece of baking paper over fennel with the edges inside the dish.
Cook for 20mins, moving fennel about halfway through.
Remove paper, stir again return uncovered for 5-10mins.
Reduce heat to 190C/170C fan/Gas 5.
Put trout on top and brush lightly with oil.
Add tomatoes and cook for another 12-15mins.
Put pine nuts in a dry frying pan until golden, chop and scatter over trout with lemon zest.
Serve with lemon wedges.


ENJOY!