Trout en Papillote

Sounds a little pretentious? Not a bit of it; just a healthy and interesting way to cook and present your trout.

En papillote simply means cooking in parchment. This simple super-healthy dish both looks, and tastes great.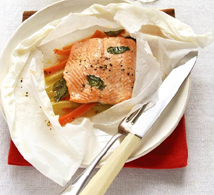 Ingredients
2 large carrots , cut into batons
3 celery sticks, cut into batons
1 tbsp olive oil
sugar
6 tbsp white wine vinegar
4 x 175g trout fillets
Basil leaves
juice 1 lemon


Preparation and cooking times

Low-fat, Super healthy, Heart healthy, Dairy-free

Omega-3, 1 of 5-a-day


Method
1. Heat oven to 190C/fan 170C/gas 5. Put the carrots and celery in a pan with the oil, sugar, wine, salt and pepper. Bring to the boil, tightly cover, then cook for 10 mins until the vegetables are tender. Cool.

2. Cut four large sheets of baking parchment, about 35cm square. Divide the vegetables between them and top each with a trout fillet. Scatter a few basil leaves and a little lemon juice over each, then season the fish with a little salt and pepper. Fold the paper in half and double fold all round to seal in the fish, a bit like a pasty.

3. Put the parcels on two baking sheets and bake for 15-20 mins (depending on the thickness of the fish). Serve in their paper with some steamed new potatoes.

ENJOY!