Honey, Lemon & Mustard Trout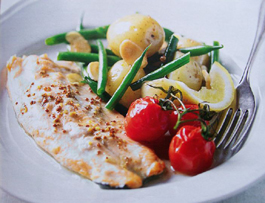 In ASDA's monthly magazine (Page 59, Jan 2013 Issue) you will find a very simple, quick and easy to make recipe featuring rainbow trout.


Ingredients
4 Rainbow Trout Fillets
2 tbsp Lemon Juice
1 tbsp Clear Honey
2 level tsp Coarse Grained Mustard


Cooking Method
1. Preheat the oven to 190C/170C Fan/Gas 5.
2. Line a baking tray with foil - it will need a slight lip to stop the juices escaping.
3. Put the trout on top skin down.
4. Mix together the lemon juice, honey and mustard, then drizzle over the trout.
5. Set aside for 5 minutes then bake in the oven for 15 minutes.


ENJOY!