Trout Fishcakes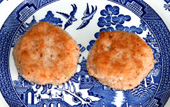 Another way of presenting your trout in a different way is to incorporate them into fishcakes. Salmon fishcakes have been offered commercially for some time, but I am not aware of any of our supermarkets doing the same with trout. Here is a simple recipe which is quick and easy to prepare, but presents the fish in a different guise with a very tasty result.


Ingredients
- 300g cooked trout (flaked or mashed with the bones removed)
- 200g mashed potato
- 1 egg
- Chopped parsley (too taste around one spoonful)
- Either a garlic clove or a small amount of horseradish source (optional)

Coating
- 1 beaten egg (in addition to the one above)
- Breadcrumbs (I tend to find that a piece of dried bread rolled with a rolling pin works best)


Method
Cook your trout in your usual way. I like to cook it with some white wine added to the water in the fish kettle with a sprig of rosemary in the cavity of the trout. Remove the small bones and then flake the trout.

Mix up with the mashed potato and mash together. Add in the parsley and garlic and mash some more.

To make the fish cakes roll into a ball and then flatten. The fish caked should be around 5 to 7 cm across and around 15 to 20mm thick.

Dip the fishcakes in the beaten egg and then press down in the breadcrumbs. Fry in some hot sunflower oil for around 5 minutes until ready. The secret is not to move the fishcakes too much in the pan and to turn when the underside starts to go brown.

They go very well with a lettuce and tomato salad; Ideal for a summer lunch.


ENJOY!