Home


Latest News


Prices


Find Us


Mailing List


Contact Us



The Boats


The Lodge


The Bailiff


The Water


On Arrival


Stocking


Flora & Fauna



Trout Recipes


Fishing Statistics


Weather Forecast



History


The Fly of the Year


The Darwell Cup


The Powdermill Cup



Safety Advice


Club Rules



Accommodation


Places Of Interest


Fishing Links









| | |
| --- | --- |
| OLDER NEWS - 2011 | |

Friday 26th August 2011

GREAT BBQ, PITY ABOUT THE FISHING

The annual Club competition & BBQ took place on Friday 19 August. We knew that the fishing would be hard, as fish had been few and far between for most of the month. Twenty-five anglers began the morning session at 9am, but by the lunch-break not a single trout had been caught. It was not until mid-afternoon that Martin Brignall, fishing from a boat, managed to land a rainbow to cheers and applause from the other competitors. However, by the end of the match at 5pm a grand total of four rainbows had been landed, much to the surprise of the spectators who had not seen another fish caught, mainly because they were too busy drinking and chatting to each other.

Apart from the four rainbows, a couple of perch were caught and someone had a good size rudd. So four anglers caught one trout each and twenty-one caught none! Despite this the fishing was intense as everyone realised that one good fish could win it. It is credit to all who took part that they all said that they enjoyed the day despite the lack of fish.



Although Martin Brignall's fish was small, the other three fish were even smaller and therefore he was declared the winner. It is unlikely that such a low weight will ever win again, but while weights and numbers will be forgotten in years to come, his name will always remain on the Powdermill Trophy. To avoid embarrassment only those that managed to catch a fish are mentioned below.


| | | | |
| --- | --- | --- | --- |
| | Name | Fish | Total Weight |
| | Martin Brignall | 1 | 1lb 7ozs |
| | Dave Warford | 1 | 1lb 3˝ozs |
| | Barry Morgan | 1 | 1lb 1oz |
| | Keith Blundell | 1 | 1lb 0˝oz |

Fortunately the weather was lovely all day and was perfect for the barbecue in the evening. As usual, there was more food and drink than the sixty odd attendees could consume. It was particularly pleasing to see so many family members and friends thoroughly enjoyed the evening. It has become a tradition that, at the BBQ, we do not thank anyone for anything. However, in this report each year, we always mention the 'caterers' for their efforts, as they like to see their names in print on the website. So thanks again to Mandy and 'big' John for your usual efforts, especially for the 'real' onions!

Monday 22nd August 2011

STOP PRESS!!! 2011 CLUB COMPETITION WINNER

Martin Brignall wins the 2011 Club Competition with one (yes! ONE) rainbow weighing a pathetic 1lb 7ozs. Photos & report to follow.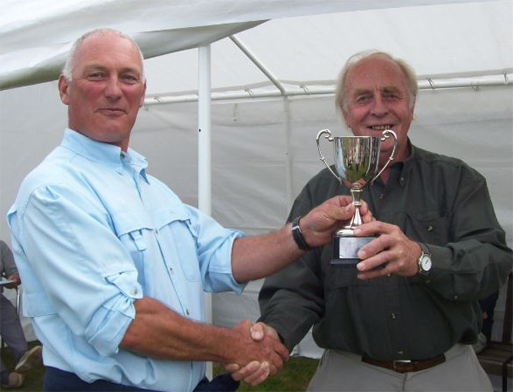 Photo of Tim Stacey presenting the trophy to Martin Brignall in the blue shirt.

Monday 22nd August 2011

EASTBOURNE FLY DRESSERS GUILD PHOTOS

Despite the club competition against the EFDG taking place way back on Saturday 2 July, until now we had still only dare publish a couple of group pictures on the website. People were puzzled as to why we had steadfastly refused to show photos of the individual participants. We now have had final clearance to publish a small selection of those pictures on the proviso that we do not include names. It is rumoured that The Environment Agency, HM Revenue & Customs, Department of Work & Pensions and the Assets Recovery Agency may be interested in putting names to faces! Despite the almost unanimous assertion by our club members that they are anti-computer and would never use the internet, it is amazing how many old duffers like to see pictures of themselves on the website. As a result, we have only published the more flattering photos.



Friday 12th August 2011

FISHING STATISTICS UPDATE

The fishing statistics for July have now been updated. Visit the Fishing Statistics page for more information.

Wednesday 10th August 2011

CLUB COMPETITION & BBQ

Don't forget that this extravaganza takes place on Friday 19 August. Vic is looking for prizes for the raffle and, while he prefers bottles of whisky, he is happy to accept your unwanted presents or any of the usual loft clearouts! It is rumoured that Dr Stern is making another of his superb cakes and I am genuinely looking forward to winning the veg box again.

As far as the Club fishing competition is concerned. When one reviews the list of winners, you realise that every entrant has a good chance of winning, but it will be very easy to be a looser. Judging by the current performance of members, the chances of an individual not catching anything is odds-on. Your intrepid reporter/photographer is forecasting a pleasant sunny day with virtually no action!



Monday 8th August 2011

"OOOPS, WE APPEAR TO HAVE RUN AGROUND!"

As water temperatures have continued to remain fairly cool for this time of year, we have been able to continue to stock as originally planned without any problems. However, with the reservoir only being half full the fish appear to be mainly in the deeper, cooler water. Much to the frustration of the purists, sinking lines and fritz lures have proved to be the most successful method in these conditions.



Monday 25th July 2011

MORE WILDLIFE

We have had an amazing response to Catherine Barnes' photo of the elusive Hobby. So we are pleased to show a few of her other photos taken at Powdermill Reservoir.



Tuesday 12th July 2011

FISHING STATISTICS UPDATE

The fishing statistics for June have now been updated. Visit the Fishing Statistics page for more information.

Friday 8th July 2011

"IS IT A BIRD, IS IT A PLA..." - "ITS A BIRD!"

We have been blessed this year with plenty of daily sightings of the rare Hobby. We have had at least four at any one time working hard catching mayflies and other flying creatures. It is always a real privilege to watch their high-speed aerial manoeuvres over the reservoir. They have now left the reservoir but not before Catherine Barnes managed to capture some shots of this magnificent bird. While her favourite photo appears here, you can view some other examples of her work in the clubhouse. Look out for my favourite - the photo of a Crested Grebe - a truly beautiful picture which, for me, encapsulates the tranquillity of Powdermill.



Wednesday 6th July 2011

WHAT AN UGLY BUNCH!

Photos of the individual participants in the competition between HFFC and Eastbourne Fly Dressers Guild will appear here shortly. Watch this space!



Monday 4th July 2011

SUSSEX FLY DRESSERS GUILD - 2011 COMPETITION

Members of Hastings Fly Fishers took on visiting members of the Sussex Fly Dressers Guild on Saturday 2 July. This was the fourth year that this event has taken place.



Six from each team fished from the bank in the morning while the others paired up (one from each team) to fish from the boats. In the afternoon they swapped over. The weather was hot with a slight breeze and some occasional thin cloud. Despite the warm conditions, all 24 anglers stuck it out, but overall the fishing was quite hard with only 27 rainbows being landed for a total weight of 35lb 3ozs.

Each team consisted of twelve anglers:


Eastbourne Fly Dressers Guild
Name
Fish
Total Weight
Bond
2
2.10
Buss
0
0
Davis
0
0
Duckworth
1
2.01
Hunter
0
0
Love
2
2.10
Maslin
0
0
Mustchin
1
1.00˝
Painter
0
0
Plowman
1
1.04
Smith
4
5.05
Woolnough
0
0

Hastings Fly Fishers Club
Name
Fish
Total Weight
Adams
2
2.06
Austin
1
2.02
Blundell
1
1.09
Burt
4
4.15
Chisholm
0
0
Coleman
0
0
Hammond
1
0.15
Hards
4
4.15
Harle
2
2.06
Kent
1
1.00˝
Nicholls
0
0
Ralph
0
0
Results
Hastings Fly Fishers Club
Eastbourne Fly Dressers Guild
16 fish
11 fish
20lb 04˝ozs
14lb 14˝ozs
Best Bag
Smith (EFDG)
5lb 05ozs
Biggest Fish
Austin (HFFC)
2lb 02ozs

No angler caught his 6 fish limit and only three anglers managed 4 fish which shows how hard the day turned out to be and all anglers were pleased when the fishing was finally over. After a few drinks and plenty of BBQ food everyone was happy once more. No doubt everyone went home a little wiser as Powdermill once again proved to be the real winner and virtually all the fish lived to fight another day.

It goes without saying that we all appreciate the time and effort that Mandy and John (The Catering Corps) spend cooking the BBQ food for us all to enjoy.

Monday 13 June 2011

CLOSING DATE FOR EFDG COMPETITION ENTRIES

The closing date for putting your name down to take part in the competition against Eastbourne Fly Dressers Guild was not stated on the recent letter sent to club members. All applications should be with either Vic or Mary by Monday 20 June, in case we are over-subscribeed and we need to draw names before successful applicants can be informed.



Wednesday 8 June 2011

COMPETITION TIME!

Saturday 2 July Hastings Flyfishers vs Eastbourne Fly Dressers Guild

Friday 19 August Hastings Flyfishers Club Competition and Evening BBQ

SATURDAY 2 JULY
You may think that there is plenty of time to put your name down for the competition against the EFDG, but this popular event is always oversubscribed so do not delay.

We had a resounding win last year, so the opposition are keen to revenge the rout! The BBQ in the evening is always a friendly affair and although the weather has not always been perfect during the day, the evening's entertainment has always been rain-free. Your resident photographer will be on hand all day to take some flattering action pictures of you which will appear on the website for the delectation of your family and friends.



FRIDAY 19 AUGUST
This competition is a chance for club members to enjoy a day fishing among friends. The BBQ in the evening is becoming an extremely popular event, attracting not only members but their extended families and even the occasional pet! Unlike the competition against the EFDG, your resident photographer will be on hand all day in an attempt to catch any embarrassing incident which may occur to publish on the website for the amusement of family and friends. Make a note of this important date.

Monday 6 June 2011

FISHING STATISTICS UPDATE

The fishing statistics for April have now been updated. Visit the Fishing Statistics page for more information.
Thursday 2 June 2011

EXTRACTS FROM A FISHERMAN'S RECORD BOOK

Club member Michael Holland died a few years ago. In 2001 Mick had been given a present of a Fisherman's Record Book in which he recorded all his fishing trips between 17 April 2001 and the last entry on 29 June 2004. The following link shows you just a small selection of the entries.

Click here to see Michael Holland's Record Book.

Wednesday 1 June 2011

A POPULAR CATCH

On bank holiday Monday (30th May) the reservoir was full of anglers enjoying the pleasant weather. All the staging along the dam was occupied, but fishing was not easy. Among the ageing fishermen was a young lady, Aimee Tregunno, aged eight. She had been brought along by her father. After a number of missed takes, she managed to catch a rainbow on a dry mayfly. Yes we do mean hook, play and land this fish. And yes, we do mean on a dry mayfly. Not bad for such a delicate little lady. I am told that all her fellow bank anglers were so impressed with her concentration, dedication and patience, not to mention skill that, on landing the fish, she was given a standing ovation. We all hope that she will return soon.



Friday 20 May 2011

FLOATING LINES AND DRY FLIES

The current settled weather and consistent Mayfly hatches have resulted in wonderful dry-fly sport. This looks like continuing well into next month. The fly life around the reservoir is proving to be exceptionally abundant and there are always periods each day when the trout can be seen rising all around the reservoir. Vic has a stock of 'Powdermill' Mayflies for sale so there is no excuse for not using this proven pattern. Even your intrepid reporter can catch on these mayflies so while the fun continues lets forget about the latest news and just go fishing!



Wednesday 4 May 2011

LIKE FATHER LIKE SON

Vic Partridge, the bailiff at Powdermill, caught the first rainbow of the season to take a dry mayfly on 19 April. This beat the previous earliest catch which occurred on 26 April some years ago and was achieved by Vic's son, Lee Partridge. Since then a number of fish have been taken on dries and dry flies are expected to feature heavily in the catch returns during the next few weeks.



Wednesday 4 May 2011

FISHING STATISTICS UPDATE

The fishing statistics for April have now been updated. Visit the Fishing Statistics page for more information.

Thursday 21 April 2011

THE FISHING AT POWDERMILL IS GOOD, BUT THIS IS RIDICULOUS!



Flying silver carp jump and leap out of the water and into our boat. Indiana Outdoor Adventure TV hosts Troy McCormick and Mac Spainhour fend off the 20 pound fish as they attack the boaters and provide a boatload of fun and adventure.

Wednesday 20 April 2011

LAUNCH THE BOATS!



With the prevailing gentle SE breeze creating a slight ripple, conditions on the reservoir are perfect. The unseasonal warm weather does not seem to upset the fish but makes life very pleasant for the anglers who continue to enjoy good sport. Fish up to 6lb have been caught this week but the double figure fish stocked last week have still to make an appearance. More boats have been launched in readiness for the Mayfly stampede.



Wednesday 20 April 2011

"HAVE WE GOT ANY SUN TAN LOTION?"

The wonderful weather has brought the reservoir surroundings to life and this combined with the excellent fishing has resulted in many happy anglers who are able to enjoy the beautiful surroundings and action packed fishing. The trout are generally near the surface and are taking a variety of offerings including damsels, buzzers, Daiwl bach etc etc. Now is a good time to experiment with flies before we all have to knuckle down to a spot of serious dry fly fishing. It will not be long before the exciting Mayfly season begins. Club member Brian McCarter is pictured catching yet another fine fish weighing just under 2lb on a buzzer.



Thursday 7 April 2011

WOT NO FOTOS!!!

Fishing has been harder during the past seven days but some anglers have still managed to be very successful. The most surprising and satisfying recent captures have been two large over-wintered rainbows which were released into the reservoir nine months ago, in July 2010. Both fish had lost weight since their introduction but as a result were lean hard fighting fish which gave their captors a few missed heartbeats before being eventually landed. Both fell to boat anglers. On 30 March, Club member Don Burt caught a super 9lb 1oz fish on a Daiwl Bach. Two days later on 1 April, visiting fisherman A.C. Millsom proved to be no April fool by catching a fish of 10lb 12ozs on a montana. When it was first stocked this fish would probably have beaten our best fish so far this year. However, because of its slim, fit condition it is only the second best so far this season.



Anglers who would like to have the opportunity to catch large fish which are not recent stockies should beat a path to Powdermill Reservoir as these were not the only double figure fish stocked last year which have still to make an appearance. The number of fish being caught which apparently have over-wintered is surprisingly high given the hard weather conditions in the winter of 2010/11 and it is not too difficult to tell the difference between a recently introduced pellet-fed fish and one who has had to fend for itself for some considerable time. As neither Messrs. Burt or Millsom have provided photos, I am publishing a photo, taken on 6 April, of new Club member R.A. Woodruff with his 4lb 8oz rainbow caught from the dam on an Alder Larisa (don't ask me!). This was the only take he had all day and although quite a few fishermen enjoyed a gloriously warm and sunny day with only a gentle breeze, this turned out to be the best fish from either boat or bank, so it deserves a mention.

Thursday 7 April 2011

NO NEWS

Unfortunately we are unable to say anything concerning recent activities which may have been witnessed by visiting anglers. Hopefully, one day soon we may be permitted to enlighten you. Until then, please be assured that you will have an arresting time at Powdermill.



Tuesday 5 April 2011

A SINCERE APOLOGY

Keith Blundell has complained about the inaccurate reporting on this website regarding the capture of his specimen rainbow which actually weighed 11lb 12ozs and not as we originally stated 11lb 2ozs. The editor/reporter/photographer/teaboy sincerely apologises for any upset caused to Keith, his wife, immediate family, friends and various flunkies who wish to bask in his reflected glory. We accept that under no circumstances can such appalling errors be excused and we assure our readers that steps will be taken to ensure that such inaccuracies do not occur again.

As part of our defence we are publishing a photograph of Keith verbally abusing the editor/reporter/photographer/teaboy while attempting to run him over.



Monday 4 April 2011

THE DEMISE OF BAMBI?

This photo was taken way back in February when the snowdrops were in full bloom. The photographer had spotted the herd of deer that had taken up residence adjacent to the clubhouse. However, at the time he failed to spot that the fifth and smallest member of the herd appeared to have been brutally massacred, probably by some creature lurking in the woods. As a result, the photo was deemed to be too gruesome for public viewing.



However, I am now pleased to be able to reassure the more sensitive among you that a miracle has since occurred and somehow Bambi has made a full recovery. The editor has therefore agreed to release the photo as a salutary lesson to those who are intending to go down to the woods today in case they also get a big surprise!

Friday 25 March 2011

SHOCK - HORROR

We are unable to keep the awful secret any longer. Earlier this week you could have seen three... yes THREE... female flyfisher-people actually fishing from the dam - all at the same time. What on earth were they doing there? You may well ask! Well, the answer is that they were all catching fish! Now, none of us have an aversion to the fairer sex, at least not to my knowledge, but I am not sure that we have ever had so many at one time and it has been many a year since we had a fully paid-up female HFF Club member.
In the recent past, any ladies making an appearance at the waterside have always been simply accompanying their better halves - although it has been noted that their masters allow them to net the occasional fish in order to help them feel involved. Fortunately, all three of these female flyfisher-people were accompanied by responsible anglers who managed to keep them under reasonable control.

If you do not believe this account, please feel free to look in the returns book. No one dared to take a photograph of any of these female flyfisher people, so for those of you not too sure what they may have looked like we have provided an artist's impression.


Friday 25 March 2011

WHAT A WEEK!

Probably the best March weather that Powdermill has experienced for many a year...... and the fishing has been wonderful too!

We have just experienced the sort of week that makes it worth starting the season so early. At the beginning of the month we were beginning to think that an April start would be more sensible with such bad weather and murky water. Then the miracle occurred and the water began to clear and the weather dramatically improved. The old duffers were able to take their coffee outside and put the world to rights while basking in the warm sunshine, and just about everyone caught fish. In fact, we have never seen so many 3lb+ fish being caught, including a double figure specimen. Bag limits from both bank and boat were not unusual and just about everyone had good sport.



It's no wonder that Vic, the bailiff, is looking happy for a change with so many contented anglers to look after. Vic, with rod in hand, is pictured here with Doug Rigby, one of the Club's directors. They have every reason to smile! The forecast is for it to get cooler next week so I expect the old duffers will have to move back inside, but I bet the fishing continues to be good.

Thursday 24 March 2011

5LB RAINBOWS ARE COMMONPLACE

If you are going to insist on having your photo taken with your best fish of the day you would hope the subject could at least attempt to strike a decent pose or even just look happy. Mick Wood failed to achieve either when posing with yet another of the 5lb+ rainbows that are being caught by delighted anglers who have to battle for up to twenty minutes before landing them. Our decision to stock a significant proportion of larger fish is proving to be very popular with most members and visitors, but presumably Mick Wood is the exception.



Wednesday 23 March 2011

THE BONANZA CONTINUES

The fishing at Powdermill continues to be excellent with boat anglers who get among the fish guaranteed to have an early limit. Both boat and bank anglers are finding the fish to be close in and boat anglers are having to fish the shallows or tend to struggle. The bailiff is always happy to point visitors in the right direction to ensure that they have good sport, but is surprising how many ignore his expert advice and do their own thing!



Because of our decision to stock a higher number of 'larger' fish this year, there are quite a few 3lb to 6lb fish in among the usual bags of 1˝lb to 2lb fish. The photos show Club member Don Burt catching a 5lb 5oz specimen in perfect condition. One of the many fine specimens from our main supplier, Duncton Mill Fisheries.

Tuesday 22 March 2011

KEITH BLUNDELL CAPTURES FIRST DOUBLE OF THE SEASON



Keith Blundell was one of the club members who refused to venture out on the opening day of the season and remained ensconced in the cosy dry clubhouse. However, Saturday 19 March was a gloriously sunny day and a number of our fair-weather anglers were finally tempted to venture out for a days fishing. Keith was one of these and decided to fish from a boat moored close to the reed bed adjacent to the clubhouse. The 11lb 2oz fish was part of his 6-fish limit which weighed a total of 23lb 12oz. Two other fish weighed 4lb 8oz and 4lb while the other three were around 1˝ lb each. With more doubles lurking somewhere, you could be the next lucky angler to do battle with one of these superb fish.



Tuesday 22 March 2011

"THE GAMBLER"



Despite the many rumours, we have to insist that Kenny Rogers has not recently visited Powdermill Reservoir to take a well deserved break from his busy schedule. Rumour has it that he enjoyed a few hours fishing while his chaufeur sat chatting in the clubhouse drinking coffee. The bailiff continues to insist that the rumours are not true and that it is just coincidence that he cannot stop whistling country tunes.

Monday 21 March 2011

YOU DON'T HAVE TO ENJOY YOURSELF



When conditions are good there is no better place to be than at Powdermill. But just because the weather may be bad, there is still no excuse for staying at home. There is always a collection of fair-weather anglers in the lodge, happy to talk fishing rather than venture out to do battle with the elements. Visiting anglers are always welcome to join in and might even learn a thing or two from the old piscators!

Monday 21 March 2011

JUST WHAT THE DOCTOR ORDERED

Local GP, Steven Stern, caught the first trout to come out of Powdermill this year and has subsequently continued to enjoy some good fishing. The photo shows him arriving after a hard day ministering to his patients, but still with time to catch his first six fish limit of the new season.



As can be seen from the catch book, the fishing has improved considerably in the last few days and anglers now have every reason to be disappointed if they fail to catch their limit. March and April normally produce the best rod averages of the year and bags usually contain some slim, hard fighting, over-wintered fish as well as recent stockies.

This year, we have had a greater number of 3lb+ fish and a number of these have already been caught, but the double-figure rainbows have yet to be caught. Last week, one visiting angler claimed to have hooked a large pike which bit through his line after making an unstoppable dash for freedom. There are definitely no pike in the reservoir, so one must assume that this unlucky angler lost one of the big rainbows.

Thursday 24 February 2011

DIRECTORS VISIT TO DUNCTON MILL



Three of the directors took time out of their busy schedules to visit Duncton Mill to view this year's stock. Doug and Tim are photographed with owner Martin admiring the fish. The first three shipments of these superb rainbows have since been delivered and are settling in, ready for the start of the new season on Tuesday 1 March. The majority of fish are around 2lb with a surprisingly high number of 3lb+ and a few double figure fish to add a little excitement and anticipation to your fishing. The water in the reservoir is gradually clearing despite the wet weather and we hope that the fishing in March and April will be good.