Home


Latest News


Prices


Find Us


Mailing List


Contact Us



The Boats


The Lodge


The Bailiff


The Water


On Arrival


Stocking


Flora & Fauna



Trout Recipes


Fishing Statistics


Weather Forecast



History


The Fly of the Year


The Darwell Cup


The Powdermill Cup



Safety Advice


Club Rules



Accommodation


Places Of Interest


Fishing Links









| | |
| --- | --- |
| FLY OF THE YEAR | |





Fly of the Year 2011 Report
The Montana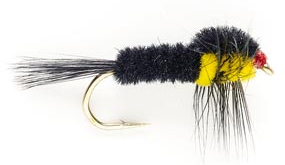 2011 proved to be a very unusual year with very low Powdermill water levels due to problems extracting water from Darwell reservoir. The failure of the aeration system also caused severe problems as temperatures rose and, as a result, the summer and autumn fishing was a disaster. Fortunately we had an excellent mayfly hatch which started early and went on for a long time. This kept everyone occupied until catches dried up. However, we cannot keep awarding 'Fly of the Year' to the mayfly, much as we would like to. So this year it falls to the Montana to make a fleeting appearance at the top of the charts.

Montana's are another popular fly, examples of which can be found in most anglers fly boxes. As a result, the variations on this pattern are endless. Montana's are tied to represent the stonefly nymph and has proved successful throughout the world.



Fly of the Year 2010 Report
Black Tadpole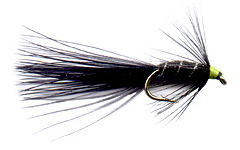 So many flies have proved successful at different times during the year that it is not really possible to chose one fly to be fly of the year. However one angler who has been very consistent with something different this year is Geff Pilcher who has used his black tadpole to great effect throughout 2010. This fly is essentially a lure and is therefore looked down upon by most Powdermill club members but there is no doubt that it can be very effective, particularly early season. This fly can be tied in a variety of sizes, weights and variations. In addition to the all-black version, one can tie an endless number of colour variations. Green can be very effective as can orange, white or black with a green head. If you tie a tadpole with a palmered body hackle it becomes a Wooly Bugger which is another recognised pattern. Use the black tadpole with confidence but don't expect to be admired for it!



Fly of the Year 2009 Report
The Mayfly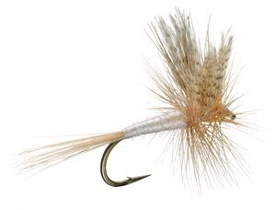 The 2009 mayfly season at Powdermill reservoir was well worth waiting for. The mayfly season is a hallowed time of year for fly fishermen, and is often referred to as "Duffer's Fortnight" because the trout go into a feeding frenzy for about two weeks, gorging themselves on big fat Mayfly and throwing caution to the wind, and are therefore easier to catch. At this time of year many anglers achieve a 6 fish limit having caught them all on the surface on genuinely floating flies.

Fishing the Mayfly is a wonderful and exciting experience, as the trout rise and feed off the surface with an exploding splash. At times the water can resemble a bubbling cauldron and the whole reservoir seems to come alive. Also, usually, the Mayfly conveniently hatches when the weather has started to pick up, the sun is shining and summer fishing gear replaces winter fleeces.



Fly of the Year 2008 Report
Shipman's Buzzer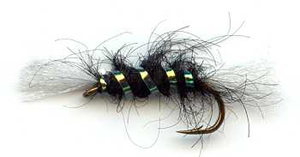 Buzzers continue to be favourite flies for many Club Members. One of the most popular and effective range of buzzers this season has been the Shipman's buzzer in its various colour forms.

The Shipman's buzzer is a relatively recent addition to the fly fishers armoury, having been invented by Dave Shipman in the late 1970s. It is an easy fly to tie and the more scruffy it looks the better!

Use a floating line. Ideally, your fly should break the lake's surface film and hang vertically just below the surface. Dressing the leader with floatant to within a few inches of the fly can help prevent the fly from sinking too deep.

Cast the fly to an area of feeding trout. Then let it sit. And sit. And sit. If your fly has been sitting for a minute or two with no grabs, slowly retrieve a small amount of line so the fly rises. Then let it sit again.

Trout can be very selective on midge pupae, both as to size and to colour, so you may need to experiment with different sizes and colours in order to find one that works on the day.



Fly of the Year 2007 Report
The Buzzer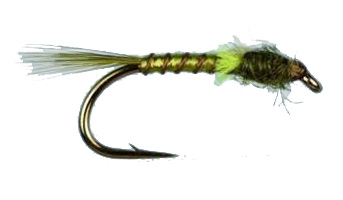 Fishing the buzzer is angling in perhaps its simplest form, but it is also a devastatingly effective way to take trout. Powdermill is one of the best buzzer waters you are likely to fish and this approach can be used right through the season. Powdermill has a muddy bottom which is ideal for bloodworms, midge pupae and then the adult midge.

It is the midge in its pupal form that we as anglers seek to imitate. A good quality floating line is vital. The heart of this system is the leader. It should be as long as you can comfortably manage and appropriate to the depth of water you intend to fish. Ideally you should seek out water not much more than 12 or 15 feet deep. Use fluorocarbon leader material as it is almost invisible in water, knots well and sinks like a stone.

There are many buzzer variations to try, but a good choice would be to use a size 12 black on the point, a size 12 claret on the middle and a size 14 short dressed spider pattern on the top dropper. The most important feature of an imitation midge pupa is the profile. While we can never hope to match the size of the natural pupa, we can at least try to imitate the slim, slightly tapering profile. Straightforward buzzer patterns need only have a body of tying thread a fine silver rib and a small head built up from tying thread. Kamasan hooks type B110s or B100s are ideal. For spider top droppers, use B160s in sizes 12, 14, and 16.

If you watch a good buzzer angler in action you will see that the speed of retrieve is critical to this method. Midge pupae are not free-swimming. They will rise towards the surface slowly as the result of increasing buoyancy or they may descend to the depths. Their movement in the water is subject to wind direction and strength. Consequently we should be trying as closely as possible to imitate these random movements. Casting across the ripple and letting the wind do the rest is a deadly method. Do not be too quick to re-cast as fish will often track the flies all the way round. When your cast is almost fished out, try a few short sharp pulls to induce a take. Remember, your retrieve, if any should be on the slow side of very slow.

When fishing from a boat, anchor bow into the wind and cast from the stern. This allows you to cover all the angles. Put out a shortish line - 15 yards is plenty - and as soon as the flies touch down, give the line a long slow pull to straighten the leader. Watch like a hawk for takes on the drop. They are sometimes difficult to spot and are often only the slightest twitch of the fly line tip.

Another effective method of non-retrieve is the aptly named static retrieve. This involves putting out your line, straightening the leader and just leaving it. If no takes are forthcoming give the fly line a long slow pull to raise the flies in the water and let them sink again. This approach is not only restful but on its day is lethal. Donít be in any rush, after all you have all day.

BRIAN McCARTER - 24/04/07



Fly of the Year 2006 Report
Diawl Bach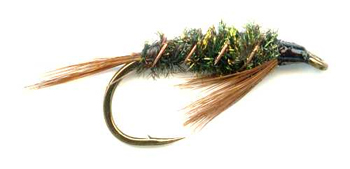 The Diawl Bach nymph has featured often in the Powdermill catch book during the 2006 season, even on days when all else failed.

There are quite a few subtle variations of this fly but the various illustrations shown here are typical of the popular patterns. This fly is typical of the small under-dressed midge-type flies that do so well at Powdermill.

There are a number of claims as to who invented this fly but I believe that it was Wyndham Davies (Welsh International) who first developed this fly. For hose who don't know, Diawl Bach is Welsh for Little Devil.

The various methods and tactics which can be adopted using this fly are expounded in great detail on the excellent website: www.flyfishing-flies.com

For those that wish to tie their own original version of the Diawl Bach:


The Typical Dressing
Hook: size 10 but 8 to 14 can be used.
Tail: 15-20 Hackle fibres.
Body: 3 or 4 Peacock Herls.
Rib: Clear Mono, about 5lb.
Hackle: Bunch of fibres, preferably pale ginger.


Our beloved Bailiff (Vic Partridge) will maintain that any very small dark-coloured fly, fished in the correct manner, will tempt feeding trout. The most consistent and therefore most successful method at Powdermill is to use a floating line with a reasonably long leader armed with a small dark fly, such as a Diawl Bach tied to a size 12 or 14 hook, which is retrieved at an extremely slow pace. He maintains that true satisfaction is achieved by tempting a feeding trout into believing that this is what it is actually feeding on rather than just infuriating it with gaudy lures fished on sinking lines.


-------------------------------------------------------------------------------------------------------------------------


The Mayfly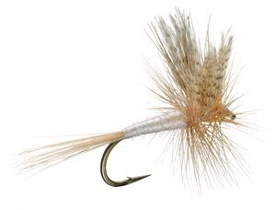 Despite Powdermillís reputation as an outstanding Mayfly water with bumper mayfly hatches, 2006 did not produce a mega hatch with trout constantly rising to take the emerging flies. However, as usual, some of the best fish were taken on this fly, including the largest rainbow caught in 2006 which is also the record for the water at 17lb 8oz.

Floating lines are the preferred method at Powdermill (Vic, the Bailiff only owns floating lines which should tell you something).

During the mayfly hatch it is almost heresy to mention the use of anything other than a floating line and a mayfly imitation.